'Zoot Suit' playwright calls youth to create change with art and education
Luis Valdez speaks to sold-out crowd at SJCC event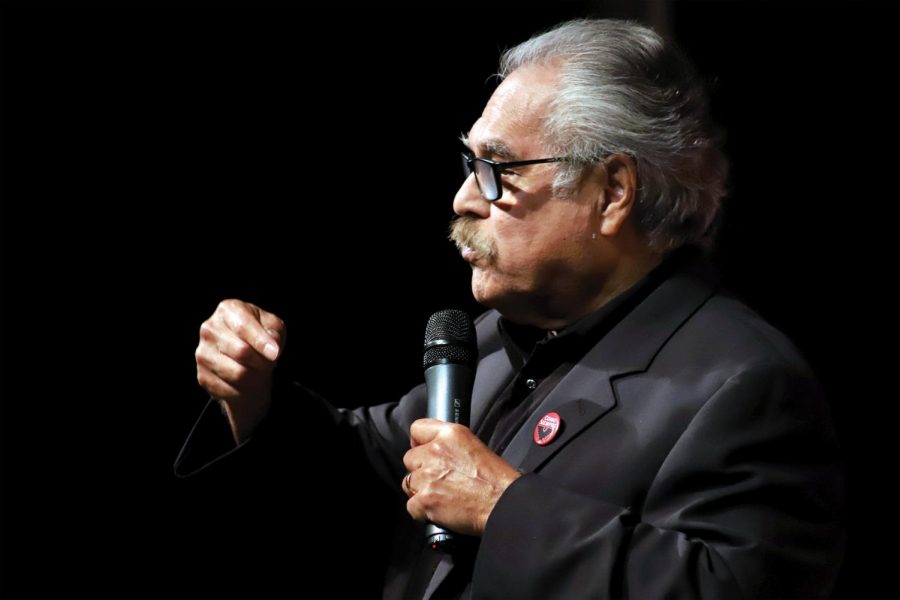 Tammy Do, Times Staff
November 7, 2017
Iconic Chicano writer-director of "La Bamba" and playwright of "Zoot Suit," Luis Valdez called on the youth of today's generation to create art as a way to stand up to injustice to a packed audience at San Jose City College's theater Oct. 19.
"The new generations have to pick up the torch and say, 'I want to light my path to go forward. And I want to do it with education, and I want to do it with creativity,'" Valdez said at the event, which honored his work with El Teatro Campesino and its role in the Chicano Movement.
Valdez first brought the idea of a theater troupe that would travel to migrant worker camps and perform (whose members would be farmworkers themselves) to Cesar Chavez as part of efforts to raise awareness and support for the Delano grape strike of 1965-70.
"(We wanted to) take the power of art and give it to the poor," Valdez said, explaining the activist roots of the troupe.
Describing the current political climate as "a mask" that sought to undo the civil rights advances of the last hundred years, Valdez stressed importance of knowledge as resistance, and using the lessons from the past in order to create change in the future.
"The things that Cesar Chavez and Dolores Huerta and Martin Luther King and Malcolm X and Rosa Parks and … so many people that have struggled for human rights and decency in this country," Valdez said, to loud cheers from the audience, "what they have achieved, someone is trying to cover over and convince you that it didn't happen – 'No, no, no, no.'"
The event, which was planned as a culmination of Latino Heritage Month activities at SJCC, also featured performances by students in the style of El Teatro Campesino and a reception in the Art Gallery, which was decked out in skulls and other traditional motifs as part of its annual Day of the Dead exhibition.
"It was astonishing," said mechanical engineering and business major Uriel Perez on the experience of performing a skit about the life of Luis Valdez, "I got a sense of what he actually went through and his experience as a young child … It's great how far he has come, and still that he keeps pushing his boundaries that we're all here to be equal."
Event organizer Anita Reyes helped the students write, collaborate and perform their own "actos."
Reyes, who worked with El Teatro for many years, said she hopes to get enough enrollment for her Chicanx/Latinx Theatre class to go forward next semester.
"(My goal) is to not just provide theater, but to provide theater as an educational tool … to give students their own voice to create their own piece, to write their own work and start giving them a voice," Reyes said.
Many of the first El Teatro members didn't even know how to read or write when they joined, said Valdez, who was the son of migrant workers himself.
"They learned both English and Spanish in the Theatro. They also learned how to handle cameras. They learned to record stuff … compose music," Valdez said.
The open event was also attended by a group of students from Gunderson High School, representatives from local arts and culture supporter, the Castellano Family Foundation and other community members. Late attendees resorted to hovering along the aisles and watching through the theater lobby doors as the theater hosted a full house.
An admirer who stood up to speak during the Q&A session after the speech said he was inspired to become a screenwriter by Valdez after seeing the screen adaptation of "Zoot Suit."
"It was the first film where I actually saw my people: Chicanos, on the big screen – dealing with what I (did) as a Chicano with immigrant parents," he said, as he apologized for beginning to tear up in front of idol. "And ever since then I've been wanting to write."
As someone whose passion for theater was first sparked by a first-grade teacher who cast him in the school play, Valdez pointed out the need for an arts education to combat misinformation and ignorance.
"The world in general has gotten more artful. It has to be. And as you carry your phone, and if you load something on, post something … you are already in the creative process," said Valdez, pointing out the technologies of today made it easier than ever for people to create and communicate. "The fact is a lot of people are putting out a lot of info, and you are part of that."
Motioning to the two Mayan corn god puppets on the stage behind him, Valdez told Chicano students to they should take pride in their heritage and the "artistry in (their) background."
Explaining that the Mayans called people "vibrant beings," Valdez's booming voice slowed and rumbled as he expressed it as something of a summation of the overarching philosophy in his art and his activism: "We are all creators. We are all creative beings. We are not hunks of meat. We are not manos de obra. We are human beings."