Enroll in Journalism
Help Produce the Student-Run Newspaper – no experience necessary!
Earn your AA-T in Journalism!
We'll be fully on campus for the fall 2022 and spring 2023 semester.     
Many positions available, including but not limited to:
writers
photographers
artists/graphic designers
videographers
web designers
advertising/sales persons
culture reviewer/critics
editors
No experience is needed!
Journalism 032A, Media Production I, Reg #113889
Journalism 032B, Media Production 2, Reg #113890
Journalism 032C, Media Production 3, Reg #113891
Journalism 032D, Media Production 4, Reg #113892
For those interested in editor positions:
Journalism 035A, Intro to editorial management, Reg #113893
Journalism 035B, Intermediate editorial management, Reg #113894
Journalism 035C, Intermediate advanced editorial management, Reg #113895
Journalism 035D, Advanced editorial management, Reg #113896
Receive college credit and gain valuable experience.
CSU transferable, 3 units, no prerequisites
---
For more information, contact us at citycolleget[email protected], or the adviser at [email protected].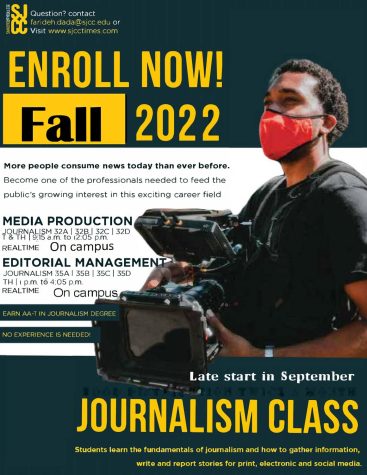 By Miu Dang / Times Staff