Local Black rapper starts clothing business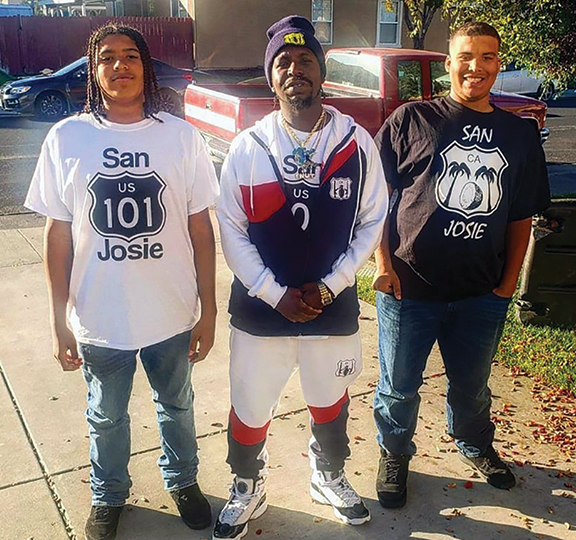 Local rapper E Nut created his own clothing company for the city of San Jose in 2010 after taking a gunshot to the body. E Nut (born Eric Bowie on Oct. 17, 1983) is the co-founder and CEO of Josie Bois, LLC.
A young Black businessman, E Nut is always doing something. E Nut is building his own music studio and aims to finish his work project by the end of this year. Unfortunately, E Nut stopped freestyling musically after he was shot 10 years ago.
"I stopped freestyling after I got shot. I died and the doctors brought me back to life. I write all my songs. It's harder to freestyle like I used to and kill s–t. I got set up by some clowns," E Nut said. "They tried to take my life. The doctors said I died, the hospital on Jackson Avenue on the east. One of the doctors decided to open my chest up, and the doctor said she touched my heart and my heart started beating again … and so here I am."
The San Josie uniforms come in all sorts of trending colors and its logos may display Palm trees, coconuts, California, with the U.S. 101 and military AKs on it. There's even a Josie Bois brand called NutsRUs.
"I came up with the idea with my partner. Deeda Smurf joined the business after I showed them the success. My first two years I didn't sell anything. My third year it took off," E Nut said.
Selling his city gear for over 10 years, E Nut made San Josie uniforms like sweat suits, jump fits, sweaters, hoodies, T-shirts, ball caps, key chains, car stickers and more.
"All this stuff I do is for the city," E Nut said. "Big ups and good looks. When you take trips, you would have something nice to put on. People would look at you and be like 'what's that or where you from?'"
E Nut's recommendations in relation to starting a business is to get an LLC and become affiliated as a business person professionally.
"It's all about being professional, being a businessman, not worried about taking L's because taking L's is good," E Nut said. "You are always going to learn when you take an L.
E Nut said in his first year or two, when he came out with the San Josie shirts, he had to give them away to his "homies" because nobody brought them.
"You feel me. I saw a vision," E Nut said. "My vision wasn't just to try it out. It was a vision, you know. I wanted people to wear this San Josie gear like how people wear that Santa Cruz sweater."
He persisted and the third year the business took off, E Nut said.
"It turned out really nice. Why sell dope if
you can sell shirts?" E Nut said. "Stay working, never give up. Stay applying pressure; and if you have a dream, you push it to the full limit. Never put your hands up, just stay grinding harder and harder until you get a breakthrough."