City College Times wins at state journalism convention
Conference canceled because of coronavirus
The Journalism Association of Community Colleges awarded San Jose City College Times four awards for its work during the spring and fall 2019 semesters.
The 65th Annual JACC State Convention 2020 in Burbank, California, was cancelled in March because of coronavirus-based travel restrictions, but judges still reviewed mailed-in entries.
The four winners and their entries are:
Newspaper writing, opinion story, second place, Krissy Tobey
"When mommy wasn't the greatest," Feb. 19, 2019
Graphics/design, editorial cartoon, fourth place, Andrea Karla Meza Flores
"American people vs. NRA," Sept. 24, 2019
Newspaper Writing, Column Writing, honorable mention, Zoe Goddard
"Alcoholism costs more than money," March 12, 2019
"My 24 hours in a mental ward," Oct. 22, 2019
Newspaper writing, profile feature story, honorable mention, Krissy Tobey
"Echoes were probably hers," Feb. 19, 2019
About the Contributor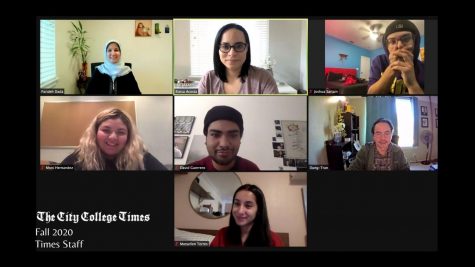 Times Staff,
The Times was founded in 1956 and is the student-run newspaper at San Jose City College.

The City College Times staff is made up of a diverse group...