One bad inning costs Lady Jaguars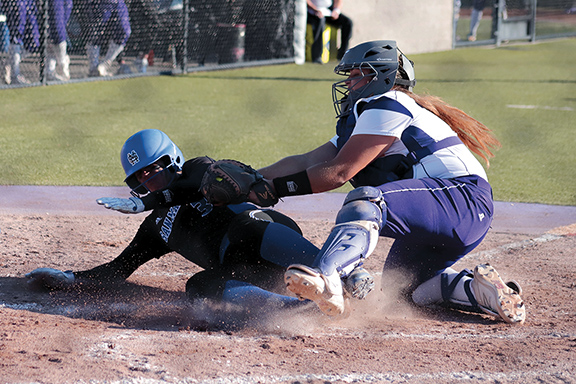 Gio Gaxiola, Times Staff
March 13, 2018
Hang on for a minute...we're trying to find some more stories you might like.
The Lady Jaguars hosted to the San Mateo Bulldogs on Tuesday, Feb. 28, looking to end San Mateo's 11 game win streak, but lost 3-1.
Through the first four innings of play, the teams were scoreless, thanks to both teams' stellar defense. Second Baseman sophomore #24 Amber Yumen was doing her job by making sure no hit went past her and turned many double plays.
The starting pitchers had brought their A-game. Sophomore Starting Pitcher #1 Stefanie Troja kept the San Mateo Bats at bay.
Trouble started to brew in the fifth inning. A costly error in the outfield for SJCC would eventually turn into two runs for San Mateo. The Lady Jaguars Bats were surprisingly quiet, gathering only two hits as a team through five innings of play.
However, the Bats would come alive in the next inning. In the sixth inning, SJCC scored their first run of the game cutting the deficit in half.
The top of the seventh is where teams make crucial plays to help get that victory. San Mateo scored one run making it a 3-1 game.
As the home team, SJCC got the last chance to bat and score. They put on a great rally. However with the bases loaded and two outs, the rally would fall short when the batter grounded out.
SJCC lost by the final score of 3-1. While they were unable to beat the number one team in the North Coast division, Head Coach Debbie Huntze-Rooney found the positive notes of the game.
"There is always room for improvement," Rooney said. "We kept up with one of the best teams in the area. If we didn't have one bad inning, we could have had a real shot to beat this team." #1 Stefanie Troja was happy with her start.
"I felt like I was constant throughout the whole game," Troja said. "I got a lot of ground balls. I felt good on the mound throughout the game."
The tough loss must have served as fuel for the team. The next game brought the beginning of conference play. The Lady Jaguars went on the road and faced one of their rivals, West Valley. The offense came out firing early, scoring in the second through fourth inning. The final score was 11-2, SJCC the winner.
There is no better feeling to start conference play then with a convincing win against one of your rivals. The Lady Jaguars look to keep the winning ways going with upcoming games against: College Of The Redwoods, Monterey Peninsula, and Hartnell.