Hopelessly late by worth the wait
Broadcasting kicks off the semester with a renovated studio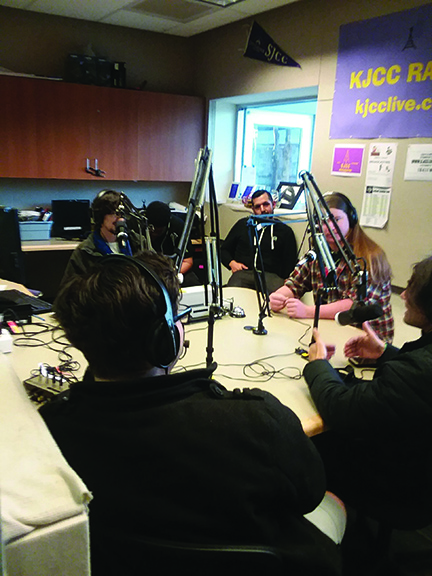 Reginald Webb, Times Staff
February 20, 2018
No more "big old speaker" outside blasting neighbors or faulty and exposed wiring from 20 years ago – just a couple of the issues radio station KJCC has endured over the years. At least, according to Station Manager Jeff Ochoa, who can breathe a sigh of relief these days, at least for a moment, as the much anticipated, newly renovated, studio that debuted this semester.
Despite delays, mishaps and furniture "malfunctions," the Broadcasting Department has a newly renovated studio with new audio equipment, additional microphones and a new audio mixing board.
KJCC is San Jose City College's radio station which is run and DJed by students, under the guidance of their advisor, broadcasting professor Elizabeth Gebhart.
Along with the new gadgets, many outgoing students have taken an interest in Broadcasting at SJCC. The department has an active club and a growing network of past and present students who stay in touch.
"We have to thank VP Jorge Escobar for keeping the contractors focused on the KJCC remodel project," Gebhart. "Going forward, KJCC Radio is always looking for new student broadcasters. Join the Broadcasting class or the Media Club! (We) welcome new DJs and show hosts."
Besides playing music, talk and interviews, KJCC also has an active sports division, covering all the major sports on campus. This semester they are doing live coverage of all the women's softball games.
KJCC kicked off the semester with a live stream of the Mayor's State of the City address, and interviewed city and college officials.
Broadcasting is a valuable resource on SJCC campus. Along with their sports coverage, events on campus – whether they be ASG, club sponsored, or events coordinated by the college administration – the department is usually involved.