Times staff take home 14 awards in competition
Journalism students meet the award-winning managing editor of "community watchdog" paper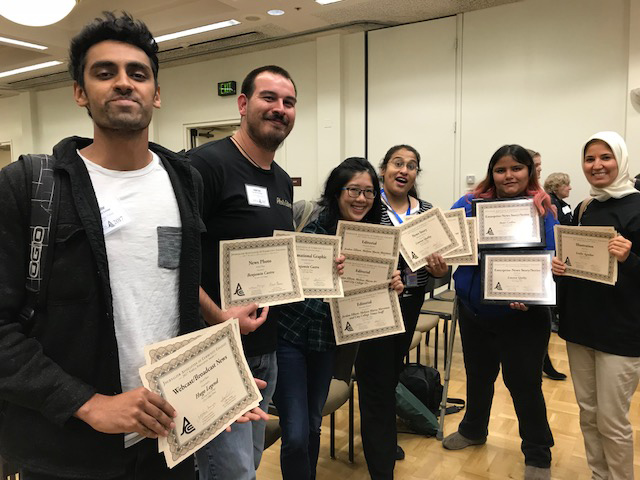 Tammy Do, Times Staff
November 7, 2017
Hello dear readers,
I'm happy to announce that Times staff took home two on-the-spot awards and 12 publication awards from the 2017 NorCal Journalism Association of Community College Conference at De Anza College.
On a foggy Saturday morning, the entire Times staff and our adviser trekked to De Anza to bravely face our fellow student journalists from all around Northern California in the time-honored conference traditions of competition and PowerPoint technical failure.
The day started with a keynote speech from award-winning publisher and managing editor Robert Trapp. Trapp, whose family publication The Rio Grande Sun serves the small community around Espanola, New Mexico, was the subject of the documentary "The Sun Never Sets," which featured, among other things, a Molotov cocktail attack to the paper's offices.
Trapp's commitment to his paper serving the community as a watchdog against corrupt institutions was a true inspiration! And the man wear lapels so well too!
It was humbling and gratifying to meet and speak with our peers from 17 other community colleges, exchange ideas and hear from them how they tackled the struggles of running a good student paper. And turn green in envy at the beautiful layouts from the excellent design teams at Contra Costa College's The Advocate.
A workshop on using social media inspired our copy editor Melissa Maria Martinez to launch an initiative to stream all ASG and other SJCC committee meetings online, to improve transparency and involvement on campus.
Another highlight was a panel featuring journalists from Santa Rosa Junior College, who had taken a day off from covering the NorCal fires to come down and speak on their experiences covering the devastation wrecked by the fires while they were affected themselves. The experience appeared to galvanize the staff of The Oak Leaf as a team, and one of their reporters' Instagram posts even got picked up by CNN, where it quickly blew up.
On behalf of the entire Times staff, I'd like to extend special thanks to Language Arts dean Celia Cruz-Johnson for always having an open door to us and supporting our program. She worked over the weekend right before the registration deadline to ensure that our entire staff would be able to attend the conference.
And of course, all credit goes to our adviser Farideh Dada for always keeping us afloat, and continually driving us to write the best newspaper that we can.
Can you believe we're halfway through the semester and done with our midterms already? Good reading, and good tidings. We hope we will have the opportunity to serve you and the community as a whole as journalists for a long time to come.
With regards,
Tammy Do
Editor-in-Chief
2017 NorCal Regional Publication JACC awards won by past and present Times staff:
  Anne Caillat – Meritorious award, Enterprise news story ("1,000 SJCC and Evergreen Valley students at risk," May 16)
Lauren Quilty – Meritorious award, Enterprise news story ("Students exposed to dangerous chemicals," May 16)
  Melissa Maria Martinez – First place, Feature photo
Benjamin Castro – Second place, News photo (on-the-spot contest)
Rudrik Suthar – Second place, Opinion writing (on-the-spot contest)
Leslie Aguilar – Third place, Illustration ("A dire need for bees," May 16)
Hugo Legend – Third place, Webcast/broadcast news ("Cosmetology at SJCC")
Jordan Elliott and Reginald Webb – Fourth place, Column writing ("Coulter is offending the first amendment," May 16)
Hugo Legend – Fourth place, Webcast/broadcast news ("KJCC Radio Broadcasting")
Jordan Elliott, Melissa Martinez and the staff – Honorable mention, Editorial (Alternative facts in news," April 25)
Anne Caillat – Honorable mention, Opinion story ("How to reduce hours of commute," April 4)
Benjamin Castro – Honorable mention, Informational graphic ("Campus Map," Jan. 30)
Patrick Jenkins – Honorable mention, Editorial cartoon ("Fisher-mid scheme," Sept. 1, 2015)
Lauren Quilty – Honorable mention, News story ("New academic policy may raise students' GPAs," April 25)