Eggs benedict recipe
The cooking corner – Made from scratch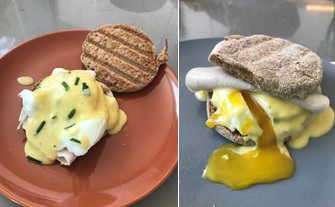 Anne Caillat, Times Staff
September 5, 2017
Eggs Benedict are famous all over the world, but they actually only became famous less than a century ago.
The legend says that on a morning of 1942, after a night of drinking and partying, a Wall Street retired employee went to the luxurious Waldorf hotel in Manhattan asking for a consistent breakfast in order to help him with his hangover: his name was Lemuel Benedict.
The chef Oscar decided to prepare an open sandwich with poached eggs on English muffins. However, Mr. Benedict wanted ham. Oscar preferred to add some bacon, more elegant than just ham. To finish the recipe and make it richer, he decided to add some Hollandaise sauce, made of butter, eggs and lemon juice. The recipe was a success and Oscar decided to call it by the name of his first client.
Nowadays, eggs Benedict are served for breakfast in a majority of American diners, they are the stars of fancy brunches, and they are copied everywhere in the world with a lot of alternative ingredients such as salmon, avocado, tomatoes, or even caviar in Russia. Obviously, they still are served in the Waldorf hotel.
This recipe is not on the lighter side, we recommend to serve it with some fruits and healthy food as well, or before a long family hike on a sunny Sunday.
In the pictures, we serve them with ham, a lighter version compared to the one with bacon.
Tools
Grill for the muffin
A small bowl
2 pots, one bigger than the other, or a double boiler
A spatula
A whipper
Paper towel
Ingredients for 4 people
4 English muffins
4 eggs
1 tsp of vinegar
2 or 3 sprigs of chives
4 slices of ham
Butter
For the Hollandaise sauce
3 egg yolks
1/2 cup butter
1/2 lemon
Salt and pepper
Recipe
Prepare the sauce:
Mix the egg yolks with a teaspoon of water.
Place in the double boiler and whip until obtaining a soft cream.
Dice the butter and add it while whipping.
Add salt, pepper, lemon juice and stir. Take away from the stove, it's ready.
Prepare the eggs:
Bring a pot of water to boil and add the vinegar. No salt.
Use a small bowl to hold each egg when opened. Pour it in the boiling water being careful to not make it break. Wait 1 to 2 minutes, trying to keep the white close to the yolk with a spoon.
Then, take the egg with a spatula and delicately drop it off on the absorbant paper.
In the meanwhile, grill the muffins by half.
When ready, butter the muffins, add a slice of ham on each half of muffin, and place the egg on top of the ham. Pour the Hollandaise sauce and decorate with sprigs of chives.
All contributions to publish a recipe are welcomed: if you're interested to share a recipe, please send an email to the Times at [email protected] and tell us why you chose it. The Times will be happy to print it.