Media club takes a tour of the radio stations
Ann Elizaga
December 8, 2014
Students learn how radio hosts put their programs on the air
[media-credit id=1 align="aligncenter" width="400″]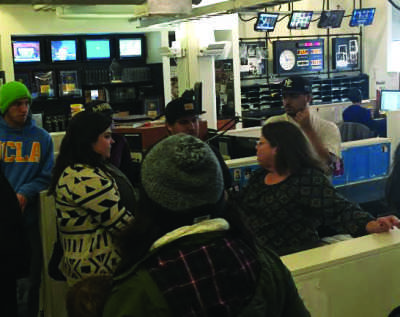 [/media-credit]
The San Jose City College Media Club had a field trip to KCBS-AM/CBS Radio studios in San Francisco on Nov. 26.
"We are learning different formats selected by radio stations, whether it be news, sports, talk, or music," Betsy Gebhart, the broadcasting class instructor, wrote in an email. "We are learning about ratings services and how the type of audience impacts or who advertises on a given station."
Many students went on the field trip.
"The number of tour participants has jumped to 20, from both the class and the club," Gebhart wrote.
All the stations in the radio building belong to a single company.
"All the radio stations located in the building are owned by CBS radio, including KMVQ-FM, 99.7 Now," Gebhart wrote.
The tour guide told students about what journalists do on a daily basis.
"Reporters do at least two stories every day, two versions of each one because we work on a 24-hour news cycle," said Jane Mcmillan, the assistant news director at KCBS Radio.
At the CBS tour, students learned about the history of the radio station and how it functioned.
"I liked that everyone else that came to the trip had a great time and got to learn a lot from the great people they got to meet," said Diego Estrada, the Media Club president. "I love it when people get a glimpse into the world, I love so much."