Lady Jags going strong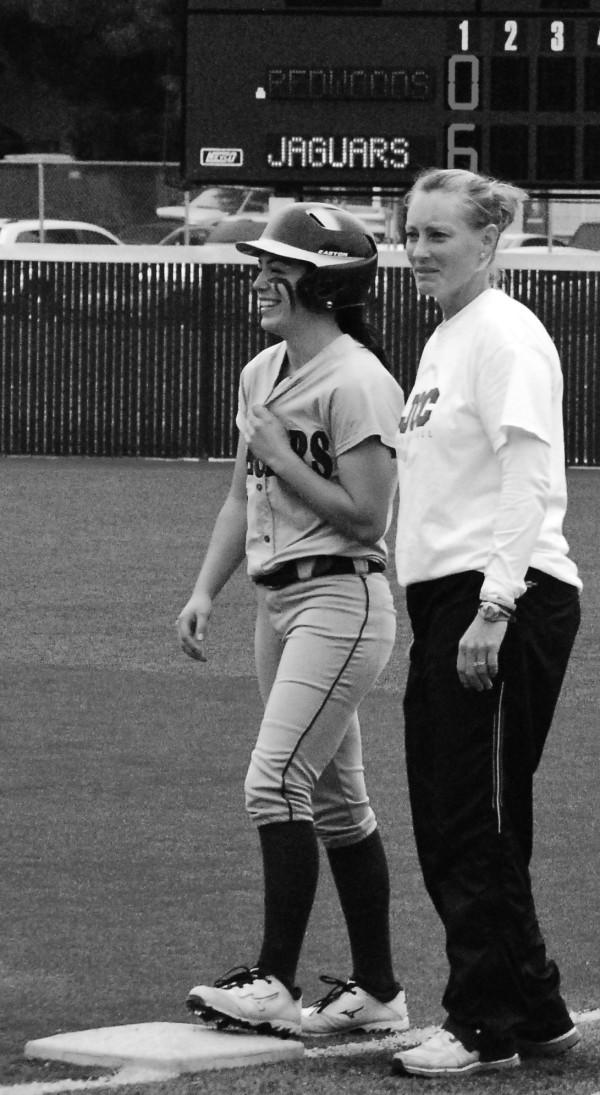 Softball team gaining momentum
After seven away games the Lady Jags came home March 11 to play De Anza College, winning 6-0. Sophomore centerfielder Krystal Rock scored a run in the first inning.
It was not until the fifth inning when an RBI double off the bat of sophomore second baseman Nicole Read started a 3-run rally, bringing the score to 4-0.
Two runs were added to the bottom half of the sixth inning, capping off the win with a final score of 6-0. Sophomore pitcher Gianna Cavallaro tossed all seven innings.
"It was G's game; she was dominating," Coach Debbie Huntze-Rooney said of Cavallaro.
Cavallaro said she felt more confident and took control in the circle.
The Jags had a 6-4 overall record in February. After outscoring Taft College 20-5 in an exciting doubleheader Feb. 1, they moved into a series of seven non-conference games.
Two games were canceled Saturday, Feb. 8 because of weather conditions.
The team traveled north to San Joaquin Delta College on Thursday, Feb. 13, but lost 3-2.
The Jags defeated the College of the Redwoods and the Diablo Valley Vikings in doubleheader fashion Friday, Feb. 14. They outscored both teams with a score of 38-2.
On Martin Luther King Jr. day, the team played another doubleheader in Elk Grove, Calif., taking on Big Eight conference contender, Cosumnes River College. The Jags finished 1-1.
SJCC opened the Coast Conference South, playing against Hartnell College at home on Thursday, Feb. 20. Hartnell's pitching kept the Jags' bats in check, allowing them to record 10 runs with 9 hits, leaving the final score 10-2.
The Calif. Community College Fastpitch Coaches Association (3CFCA) announced the week three players and pitchers of the week Tuesday, Feb. 25, and sophomore catcher Treasure Rodrigues was named.
The team lost to rival West Valley College on Tuesday, Feb. 25 with a final score of 8-0.
Rodrigues said the team focused on working hard and achieving the win after back-to-back losses.
Taking on Cabrillo College at home Thursday, Feb. 27 was the next conference test.
After the Jags scored three runs in the sixth inning and two more from the visiting team, they made a comeback and achieved their first conference win.
The team took part in a regular season, two-day tournament in Fresno on March 1 and 2 where they finished with a record of 1-3, playing all non-conference teams.
The Jags then went back to conference play, taking on Gavilan College in Gilroy.  After 12 runs and 10 hits, the ladies walked away with a 12-7 win.
Continuing the road trip further down to Monterey Peninsula College, the Jags' pitching fell short, allowing seven runs on 14 hits in a 7-1 loss to MPC.
The Jags lead with 40 doubles, 25 home runs, a .394 batting average and a .502 slugging percentage as a team, as of March 11.
Rock recorded 10 doubles on 25 hits, leading the team in extra base hits with 13.
"We stuck with what we had and what we knew," Rock said about the season.
Sydney Halleen leads leads the team in numerous categories, such as home runs (6), RBIs (26) and slugging percentage (.898) in 49 total at-bats this season.
Pitching duties have been handled mostly by Cavallaro, who holds a 3.12 ERA in 67.1 innings with a win-loss record of 4-5. Freshman pitcher Jessica Wakeman has a nasty, knuckle ball pitch that helped record 14 strikeouts in 35.1 innings.
The Jags are 3-5 and looking to improve on their overall record of 11-8. They played against the City College of San Francisco on Thursday, March 13 at home.