Lady Jags hit first place
Patrick Loera
April 11, 2013
Filed under Sports
Hang on for a minute...we're trying to find some more stories you might like.
The game was tied 1-1 in the bottom of the seventh inning when Leslie Angulo hit the game-winning home run for the Lady Jags to stun the No.
1 ranked team in the state, College of San Mateo, on April 2 in San Jose.
"After my hit, I had no words to explain the feeling because I was so overwhelmed with winning the game," infielder Leslie Angulo said. "I was just happy we were able to pull through as a team."
The Lady Jags were the first to score when Dani Pianto's RBI in the bottom of the first inning gave Krystal Rock, catcher, the green light to score.
"San Mateo's pitcher is very good so finding a good pitch to hit was my plan and I took that opportunity and it worked in our favor," Pianto said.  "I knew if we could score first we would be in a good place for the rest of the game."
It was not until the top of the fourth inning that College of San Mateo was able to tie the game.
When extra innings were looking like a possibility, Angulo went up to bat.
On the first pitch, she pulled a walk-off home run over the left field wall.
"I thought it was the best game of our season," outfielder Breanna Hunsucker said.
Lady Jags' pitcher Giana Cavallaro only allowed five hits and one run during the game as she stayed on the mound for the entire game.
This victory is mainly attributed to the Lady Jags fielding skills as they are first in the Coast Conference-South with a .954 fielding percentage.
This win puts the Lady Jags on a ninegame win streak.
The Lady Jags come back to SJCC to host Hartnell College on April 9 at 3 p.m.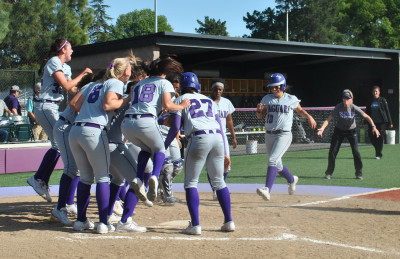 Kevin Flores / TIMES STAFF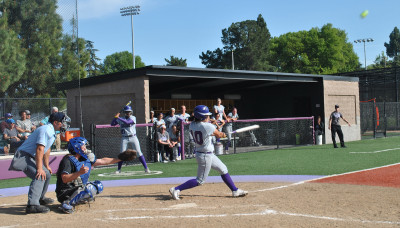 Kevin Flores / TIMES STAFF

Print