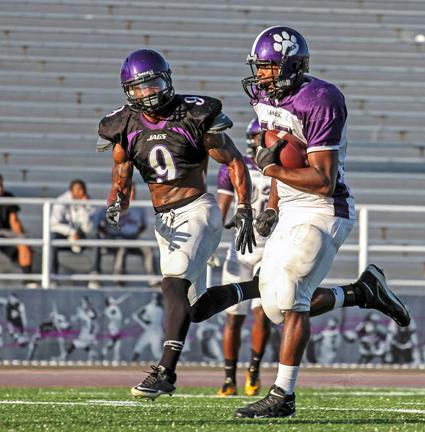 The San Jose City College Jaguars have begun another season with consecutive losses in nonconference games. Can they demonstrate productivity as they head into conference games?
"The point is just keeping the guys in the right direction because even after a big win and disappointing losses there's still going to be mistakes," Jaguar's offensive coordinator Jody Carasco said.
During the 2010 football season, the Jaguars lost most of their non-conference games but eventually pulled out of their slump to finish 6-0 in conference.
"They had a rough off season, rough nonconference season, but we stayed healthy, and when we got to conference, we won six straight and a bowl victory," Carasco said.
Story continues below advertisement
That significant turnaround gave them the green light for the Living Breath Foundation Bowl in Monterey against Solano College. They won 39-12.
The following 2011 season began nearly identically—discouraged players looking for a win, unsatisfied coaches looking for a change, and the team 0-4 going into conference play.
"It's time to put up or shut up,"  head coach Carlton Connor said, who spoke with the Times last season to voice his dissatisfaction.
However, the Jaguars could not rebound from the deficit.  They left the field morally and physically beaten after every loss.
"Last year we lost a lot of players due to injury. We didn't have the same offensive line play two games in a row," Carasco said.
The highlight of the season was the homecoming game where they beat the Gavilan College Rams 41-0. The Jaguars finished the 2011 season 2-8 overall.
Now that the 2012 season has begun and the Jaguars attempt to change the pattern of the past, the Jaguars begin nonconference games 0-3 after losing to DeAnza College, College of Redwoods and Merced College before going on the road.
"Can the Jaguars win more than two games this season," Academic Senate President Charles Hiemler said.
According to starting sophomore defensive end / outside linebacker Adrian "Tank" Blake, the Jaguar defense has been effective but can still do more.
"As the season goes on we are going to evolve into a top notch defense eventually before we go into conference games," Blake said.
"We really want to be to the point where we have cut down mistakes down to bare minimum and where everything that we do is being very productive," Carasco said.
The Jaguars next home game is Sept. 29 against Yuba College.
The first conference homecoming game against Cabrillo College is Oct. 13 at Jaguar
Stadium.