Track and field team qualifies for NorCal meet
Dutches Richards
May 9, 2012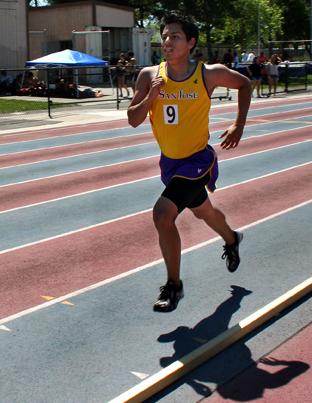 The San Jose City College track and field team hosted their first home meet of the 2012 season at SJCC athletic field on Saturday April 21.
SJCC track and field team assistant coach, David Flynn, says that he enjoyed the home meet and that the character of the team really stood up.
"Everyone did a great job," Flynn said. He said everyone could use improvement, not because they are not doing well, but instead to become better athletes.
Flynn said that he is proud of the track team coming through and doing well with their PR (Personal Record). Flynn said the majority of the team has qualified for the Northern California meet.
It is the meet before States for track and field.
At the meet, SJCC competed against about 7 other schools Flynn said. Also Flynn said the team was dealing with the intense heat weather, but managed to push through.
"I had no complaints that day from any of the athletes," said Flynn.
Dante Spears, 18, theater and acting major, competes in the 4 x 400 meter relay and long jump.
At the April 21st meet, Spears came in third in the long jump that put him in the top four. He came in fifth place in the 4 x 100 meter relay.
Spears said he was very excited and happy to have a home meet. He also said that it gave him a sense of comfort.
"I know this field," Spears said. "It was a little bit of home field advantage."
Paige Hollis, 19, competed in the hurdles for SJCC. Hollis won first place in the 100 meter hurdles. Having a home meet gave Hollis a good amount of confidence.
"I haven't been doing that well lately," Hollis said. "But with pass track meet, it was a good comeback for me."
For the upcoming meet at Hartnell, Hollis said she plans to prepare herself by having a better mentality. Hollis' record in competition is a 16:30. She wants to reach her PR (16:09) in the Hartnell meet.
Hollis said the heat did not affect her.
"I can appreciate that kind of weather," Hollis said.
She said she runs better in the heat than the rain. In the meet, Hollis said she felt that the competition she was not what she expected.
"I wanted some real competition," said Hollis. "Going against really good competitive people will make me a better runner and athlete."