Men's basketball team mounts a comeback win
From being down 23-8 to coming out on top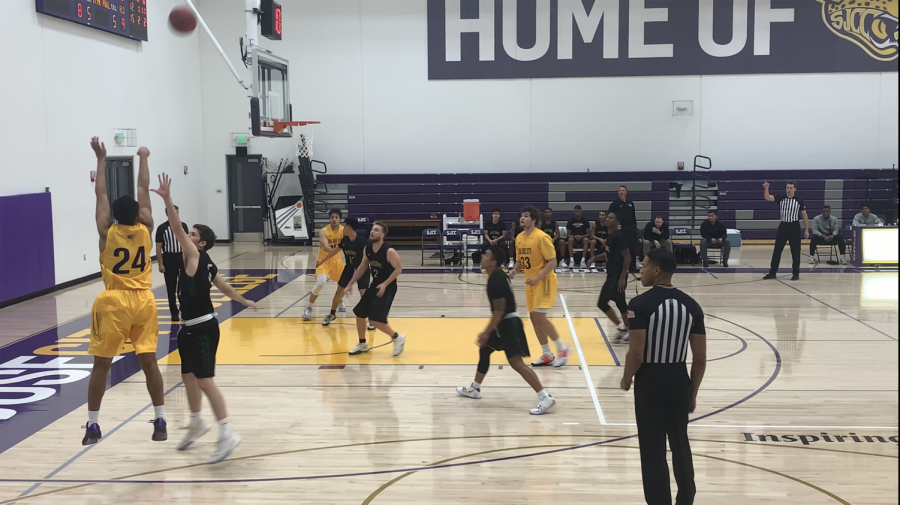 SJCC's men's basketball team hosted Ohlone College on Nov. 20, in a game that was exciting for all. The game started out being dominated by Ohlone College as they were fast to jump out to a lead which they would keep throughout the first half. The Jaguars fought their way back into the game and secure the victory.
The Jaguars seemed like they could not get the ball in the basket, while Ohlone wasted no time making their first 5 3-pointers. This put the Jaguars in a deep point deficit in the first half.
Ohlone kept pushing, but after the second half there was a noticeable change in both the offense and defense of the Jaguars. "We have been grinding at practice everyday" said SJCC's Decaurey Brown, point guard, "our main thing is when we face adversity to overcome it. We have been playing from behind all year, close 2-point games. We finally just grinded it out tonight." Brown said. Brown also was the leading scorer in the game, contributing 26 points.
After slowly chipping away at Ohlone's lead by doing as Brown said and overcoming the adversity that they were facing, our Jaguars got their first lead of the game with 4:53 left in the second half.
However, the fight was not yet over. Ohlone kept on fighting and did not want to lose this game which they had dominated up to this point. "We played as a team, at the beginning we were playing selfish but at the end we got it done." Said SJCC's Bryan Nguyen, point guard, "Once we started to play like a team, we got the W."
It was clear throughout the second half that the Jaguars were working as a team. The greatest basketball icon ever, Michael Jordan, has this opinion on teamwork, "Talent wins games, but teamwork and intelligence win championships."
As the suspense rose, and the team became tested more and more, team work became more important. The Jaguars ended up winning the game by one point. This shows how the teams effort in practice, and acknowledgement of the importance of working as a team is paying off.