Students taught life lessons at 'LifeSpeak 2019'
… and lives spoke to each other, as advertised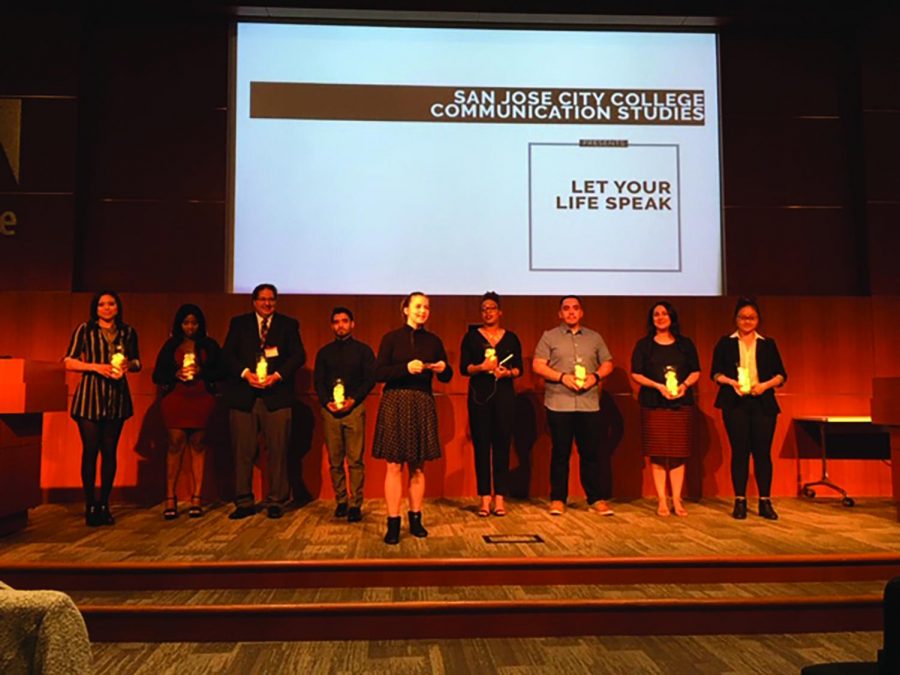 Krissy Tobey, Times Staff
May 6, 2019
Approximately 100 people stopped breathing together on Friday, April 12 when nine SJCC students shared breathtaking personal stories of trouble and triumph on the Adobe stage for "LifeSpeak 2019."
Each speaker held a unique perspective on personal growth from friction in their lives. Past topics included immigration, incarceration and PTSD, but students this year grew from hurdles such as disease and discrimination.
The SJCC Communication Studies Department partnered with Adobe to mentor eight student speakers and one Master of Ceremonies, giving them a physical platform on which to inspire others. Adobe provided the technology, the space and the catering to this event for the third year in a row. Each student received speech coaching for his or her emotional narratives by SJCC Communications Faculty Shelley Giacalone, Leslyn McCallum, and Waylon Baker.
"Everyone has a story to tell," Giacalone said, "and a voice to be heard and listened to."
Giacalone, who has participated in all three years of this program, said that more creative interpretations were used this year in comparison to the previous two. She was optimistic about the future of the LifeSpeak program.
Toni Vanwinkle, Adobe staff, mentioned the Oscar that Adobe won for technology this year. The technical aspect of the program went flawlessly.
SJECCD Chancellor Dr Byron D. Clift Breland also spoke briefly before the official program began. He said he wants to showcase who community college students are.
"You are a seed," Breland said. "When life tries to bury you, a seed grows."
The following SJCC student speakers all had one thing in common: when they grew, they took the audience's breath away.
Lucy Revina, the MC, said, "Turn and introduce yourself to the person next to you," and she wasn't kidding. Surprise, disbelief, and anxiety all drew breath at once. Then she made them chuckle and brought them together to listen.
Mark Gervolino caused a cumulative gasp by startling the room with the sound of a wooden board that he broke into two. It was the physical counterpart to his metaphor of growing stronger with support. His message had a punch, literally, which was felt by the audience through their stationary seats.
David Rhodes sucked a sigh of grief and of sympathy onto the stage when he remembered losing loved ones. Death is a universal pain, and empathy let loose in waves with him. When he plucked himself up, the audience felt uplifted, too.
Unathi Zibi took the updraft and made the audience laugh. Her message addressed American stereotypes of South Africa. Laughter over the word "organic" and how it was mishandled in her life was an amusing anecdote that made several people chuckle.
Vaneysha "Viva" Hicks used the words "a song your eyes can see and your heart can dance to" about her daughter, Holiday. Those words were precious to behold, and they were felt in the audience, in throats that didn't say them. Hearts were still.
It never matters the context in which the word "suicide" is used: people stop breathing.
Trinh Tong used it. This particular night's context ended up breathing, and the audience's sighs were relieved and grateful.
When Gina Castillo said that she was once given five years to live, the audience's air went somehow sterile. A chill fell into the silence that followed, where tension built and was released as she got better unexpectedly. She's still breathing, and her medical journey brought hope to a climax.
Ryan Balli displayed vulnerability and wore it proudly. He intends to serve the public as a police officer. The genuine moment, the one that caught the onlookers in their throats, was when he recounted asking his "step-dad" to pin on his police badge. … Honor's breath is deep and wide.
Kiana Richardson inspired awe, which opens one's mouth and lets breath back in after it has left. Her "malevolently beautiful world" summed up the evening's emotions. Her spoken-word poem encompassed a range of emotions, including uncomfortable ones like being targeted for hate. It described the fragility and the power that human beings possess, and it ended on a positive note.
Nine voices were heard, nine journeys were shared, and a whole room drew a single breath several times.
"Astonishing," said Mina Alsadoon, a psychology major and SJCC alumni. "I feel inspired, and I should be ashamed of the worries in my life. I have to look up to them."
Among those looking up to this year's speakers were Breyana Parker, an SJCC nursing major. "I want to do it next year and tell my story," she said.
Patricia Richardson, Kiana's mother, said of her child, "I am in awe." In her case, the parent was not the teacher that night. Several parents were present.
"Speaker" and "audience" swapped labels and mingled once the program ended.
Lives spoke to each other, as advertised.
TRIBUTE TO LIFESPEAK 2019

What lets hope arise?

Un-becoming one's labels

and breaking through walls.

Magnetize moments

when humans come to a call,

but God has the plan.

Every rose has thorn

Every breath marks a journey.

Every life can teach.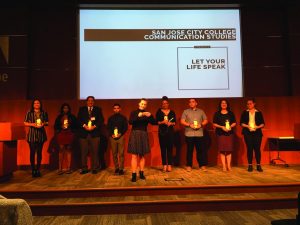 Lucy Revina: 19, computer science and electrical engineering major. She engaged light-heartedly with the audience between speakers. Before introducing any else, she asked the audience to say "Hello" in any language. Her brief intermissions gave people a little breathing room and a chance to reset before the next revelation.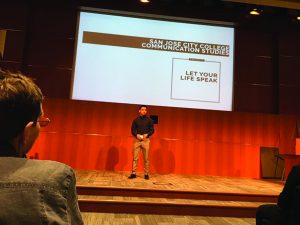 Mark Gervolino: 21, communications major. Gervolino broke ground the Adobe stage by first breaking a wooden board, which is a rite of passage in martial arts training. His message, "Breaking Through," encouraged the audience to think about the people who holds the barriers which foster growth in their own lives, and to appreciate the people who support them from the sidelines.
"Who are your board holders?" he prompted, and left the audience to ponder.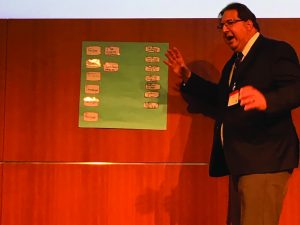 David Rhodes: 55, psychology, drug addiction counseling major. Rhodes let the audience ponder failure. His speech, "Labels," spoke about aspects of failure and how he overcame the labels that bound him.
Rhodes stopped the hearts of all his spectators when he said that he lost his brother and son to drugs and alcohol. The room felt his loss. His strength returned when he grew through labels like disabled, divorced, and bankrupt.
"What label are you?" he asked.
In answer, he said, "Learn from it, don't dwell on it."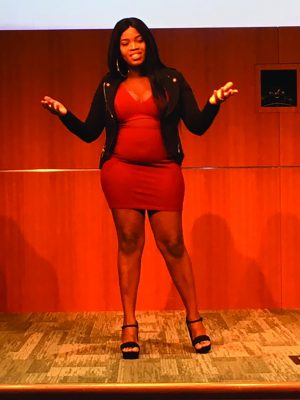 Unathi Zibi: 30, communications major. Zibi's story, "God has our Itinerary," was positively delightful – a love story which began with rough times and ended up bringing the audience together with laughter.
"Organic food is better? I didn't understand," she said when describing her mistreatment as an au pair. "Everything is organic at home."
Zibi's message was that despite hardships, "God's plan for our lives is still unfolding every day."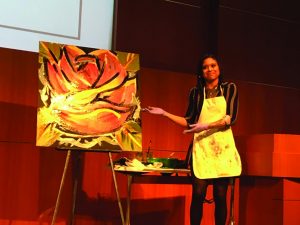 Vaneysha "Viva" Hicks: 29, studio arts major. Hicks let her story unfold on an easel and didn't allow the audience to breathe for her entire performance. Clad in a neat, black-and-white striped outfit reminiscent of jail bars and armed with an articulate, fluid, emotional narrative, Hicks kept her back to the audience and literally painted as she told her story, "Every rose has its thorn."
Recounting when she learned that she was pregnant and alone, "I did the first smart thing I ever did," said Hicks, "and I asked for help."
When her voice broke, her art spoke for her, and tears were shed.
"There are no shortcuts in life," she concluded, to generous applause.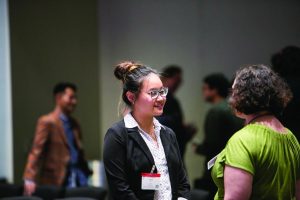 Trinh Tong: 21, communications major. Tong caught the audience off guard with powerful feelings when she described a shortcut with the words "attempted suicide." Then she countered the painful brush with reality, describing gratitude for surviving a car accident which happened a few months afterward.
"I'm glad that he hit me," she said, "because now I can appreciate everything."
There was a collective sigh of relief.
Her story, "Magnet(fying) [sic] Your Moments," ended with a question. "If I were to tell you tomorrow is your last day," she said and paused for reflection, "which … items would you do?"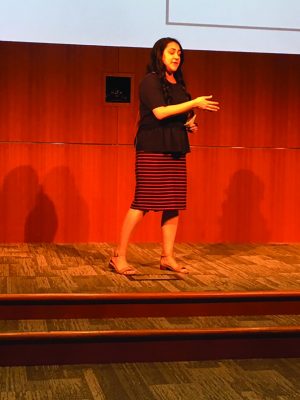 Gina Castillo: 30, communications major. Castillo's piece, "Let Hope Arise," recounted how little she could do when given a diagnosis of End Stage Renal Disease. Sadness and suspense, horror and hope, all arose simultaneously.
Castillo is now nine years grown into a kidney transplant and inexplicably rid of two incurable diseases. She was the catalyst for hope that arose in those who heard her story.
"I choose not to dwell on why I've been given a second chance at hope and life," she said. Her message and her voice had a healthy ring to it.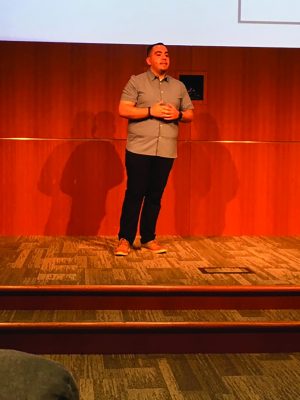 Ryan Balli: 26, criminal justice major. Balli said that once, a man arrested his father. By happenstance, that man, Jason, later became Balli's high school football coach. In "Humanity in a Call," Balli described a special bond with Jason, who became a life mentor and encouraged him to join the police force.
Balli choked up talking about the family that genetics doesn't choose. Pride and humility flooded the room when he spoke about his bond and his experiences with Jason, and the audience was honored to share in those moments with him.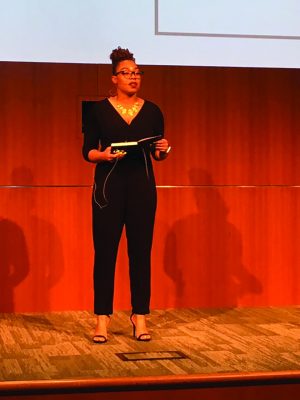 Kiana Richardson: 24, communications major. Richardson ended the evening with a spoken-word poem which described a world where "we learn hate as we grow."
Her piece, "Un-Becoming," told her personal journey through adversity as a black woman in America. She recapped the evening's theme with poetic eloquence. Her voice ended the evening powerfully: "What a beautiful disaster it is to un-become all that was instilled in you and become who you were meant to be. Now, let's rise."