Winter Olympic Games 2018, time for the assessment
USA comes back from Pyeongchang with 23 medals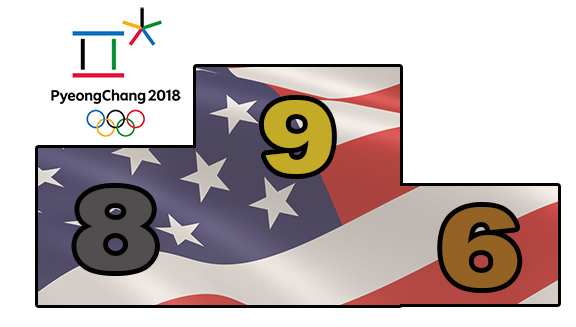 Alix Duhon, Times Staff
March 13, 2018
It was a large, but disappointing haul for US Olympics at the 2018 Winter Games. The USA landed fourth on the final board, winning 23 medals (8 gold, 8 silver and 6 bronze) out of an expected 37.
Regardless of the scores, some students had a blast during these games supporting their favorite sports and athletes. Michael Baker, 27, business administration major, didn't miss a minute of his favorite events.
"I love the Olympics. I have been a big Shawn White fan since I was a teenager. It was crazy to see him win again." Baker said. "I am a big supporter of the women hockey team; it's nice to watch women's hockey for once."
People enjoy the Olympics because it allows them to watch sports that are rarely showed on TV.
Sadie Wared, 31, art major, recorded the games that she didn't want to miss because the opportunities to see some of them are rare.
"Olympic games are awesome. We have the opportunity to see cool sports that we don't usually get to watch," Wared said. "I love bobsled and luge, but my favorite is curling. I am thinking of taking a class someday; it looks so fun to play."
These Winter Olympic Games were a big event for the South Korea, who received the athletes of North Korea, her neighbor enemy. The athletes of the two countries finally paraded together under the Korean Unification flag for the "Games of Peace."
Even people who are not sports fans noticed the symbolic act of the two countries, such as Weston Nortis, 25, computer sciences major, who found it to be an honorable action.
"Honestly I didn't really pay attention to the games at all," said Nortis, "except the fact that North Korea and South Korea walked together with the same flag."
For most people Olympics can't be missed, but this year it was in South Korea, and the time difference made it hard to watch the games, even for big fan like Dave Giguerra, 29, psychology major.
"I am a huge fan of the Olympic Games," Giguerra said, "but I was too busy this year to find time to follow it."
USA Medals:
| | | | |
| --- | --- | --- | --- |
| | Gold | Silver | Bronze |
| Curling | Curling Men | | |
| Snowboarding | Shaun White / Half-pipe Men / | Jamie Anderson / Big Air Men | Arielle Gold / Half-pipe Women |
| | Chloe Kim / Half-pipe Women / | Kyle Mack / Big Air Men | |
| | Jamie Anderson / Slopestyle Women | | |
| | Redmond Gerard /  Slopestyle Men | | |
| Alpine Skiing | Mikaela Shiffrin / Giant Slalom Women | Mikaela Shiffrin / Alpine Combined Women | Lindsey Vonn /  Downhill Women |
| Ice Hockey | Ice Hockey Women | | |
| Freestyle Skiing | David Wise / Half-pipe Men | Alex Ferreira / Half-pipe Men | |
| | | Nick Goepper / Slopestyle Men | Brita Sigourney / Halfpipe Women |
| Cross-Country Skiing |  Team Spirit Women | | |
| Bobsleigh | | Two-man Women | |
| Speed Skating | | | Team Pursuit Women |
| Figure Skating | | | Ice Dancing Mixed |
| | | | Team Mixed |
| Short Track Speed Skating | | John-Henry Krueger / 1000m Men | |