Looking back on 2017
Floods and fires, pussy parades and #MeToo - a newsworthy year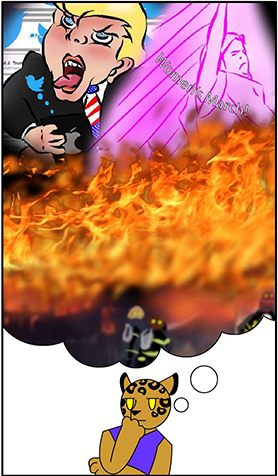 Magnolia Lonero, Times Staff
December 5, 2017
2017 is coming to a close and a new year awaits.
Let's take a look back at what happened in 2017 after the inauguration of President Donald Trump.
As we reigned in the New Year, America became increasingly aware of Trump's involvement with Russia.
The day after Trump took office, Bay Area residents, both women and men, joined the country in a Women's March.
Around February, San Jose experienced a large amount of rains which led to fierce floods. Up to 14,000 people had to evacuate.
Mid -Spring semester we saw how fake news affected journalism and how so many people just about everywhere trouble journalists on lies and facts that they think are true. Which makes journalists all over confused and looked down upon by competitors.
Long after the spring semester ended and as summer was coming to a close, hurricane triplets Harvey, Irma and Maria created mass destruction when they descended upon Texas' coast, Florida, and Puerto Rico.
Kicking of the Fall semester The Times featured its view of the First Amendment and how it must adapt to the age of media and thoughts of being biracial or multiracial.
Around early September, the rider-friendly event 'Viva Calle' was hosted in Alum Rock, to bring a sense of community to the city of San Jose.
Stepping into October, a mass slaughter took place in the heart of Las Vegas, Nevada. 59 people were killed and 546 people were injured, making this shooting the largest mass shooting in our country's history.
Around the same time, fires were roaring up north in Santa Rosa, burning down many homes, and taking the lives of many people. Most of Santa Rosa was evacuated, and 40 people were confirmed dead.
Around mid to late October, Times Staff joined journalists from other California Community Colleges  in the 'Journalism Association of Community Colleges' conference to compete and to learn about  topics that are necessary to run a newspaper.
Breaking into November, the Times talked to a teacher of San Jose City College shared his story of his gracious act of human kindness, to a local stray cat, and had been caring for the cat for well over 13 years.
On Nov. 5, terror struck once again as a man opened fire in the middle of a church service at a church in Sutherland Springs, Texas. 26 people were killed, thus leading to another deadly shooting marked in U.S. history.
Still ongoing nationwide. The #MeToo campaign remains. Women posting online #MeToo to signify they too have experienced sexual assault or have endured inappropriate and unwanted sexual harassment.
And that's not to overlook at the many artists that walked in and out of SJCC to give a show and a speech at the SJCC art gallery. Artists as talented as Lucy Ghelfi, and many others. These artists are creating and showing not only beauty of what's around us, but as well the beauty of what is within.
As students of San Jose City College, like many other teaching facilities out there, we all form bonds, among each other as students, or with some teachers. But as the year comes and goes, students graduate or transfer, and teachers decide to transfer or retire, you may think goodbyes are difficult, but the fact that we live in an era where we have advanced technology. So it isn't actually "goodbye," it's more like, "I'll FaceTime you later :)."