Departments demonstrate need for full-time faculty
Academic senate votes on hiring priorities list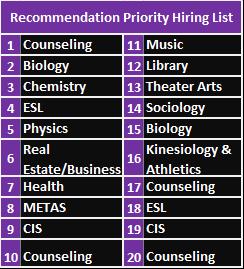 Melissa Maria Martinez, Times Staff
December 5, 2017
Hang on for a minute...we're trying to find some more stories you might like.
The counseling, biology, chemistry, ESL and Physics departments were ranked as the top five college hiring priorities.
During a meeting of the academic senate Tuesday, Nov. 7, members of the senate listened to department representatives plead their case on why they need additional new full-time faculty members.
The counseling department requested four new full-time faculty members during the meeting.
"We are not able to handle the volume and the expectations along with additional services we are expected to do." Pathway to Law School Coordinator Rachael Hagan said.
A 1-to-370 ratio for counselors to students was recommended in 2010 by The Academic Senate for California Community Colleges, Hagan said.
"If we assume we are at 10,000 students we are at a 1-to-933 ratio," Hagan said, "even just adding two counselors brings us to 1-to-736."
Athletic Director Lamal Harris asked members to consider the Kinesiology Department as a priority to replace retired faculty.
"There have been four retirement positions that have not been replaced," Harris said. "We feel now is the time to ask."
After each department made its case, members of the board ranked the priority of each department requesting consideration.
"All we can do is recommend our wish list," Covarrubias said.
Covarrubias said the recommendation list is submitted to San Jose City College President Byron Breland who weighs their recommendations together with his assessment to determine hiring needs of the college.
President Breland said with the available budget, the college will be filling six full-time faculty positions
"The selection process will occur immediately with the posting of the positions in December and should be completed by the Spring of 2018. The successful candidates will begin their assignments in the Fall of 2018," Breland said in an email. "I am thankful to our academic senate, under the leadership of Professor Jesus Covarrubias, for successfully engaging in and completing the process for submitting the Senate's hiring priorities on behalf of the college."
Covarrubias said it is unfortunate to have to make these difficult decisions between the many different department programs that are all very worthy of having full time faculty.
"There is a strong case to be made for many, if not all, the presentations today,"
Covarrubias said senate leadership will continue to bring this message to the district office, the chancellor and Board of trustees.
"We serve our students best when we have full time faculty that are here and not having to worry about jumping on the freeway and going to other colleges just to teach."