Students and faculty welcome anti-racist activist Tim Wise
Discussing the flaws of America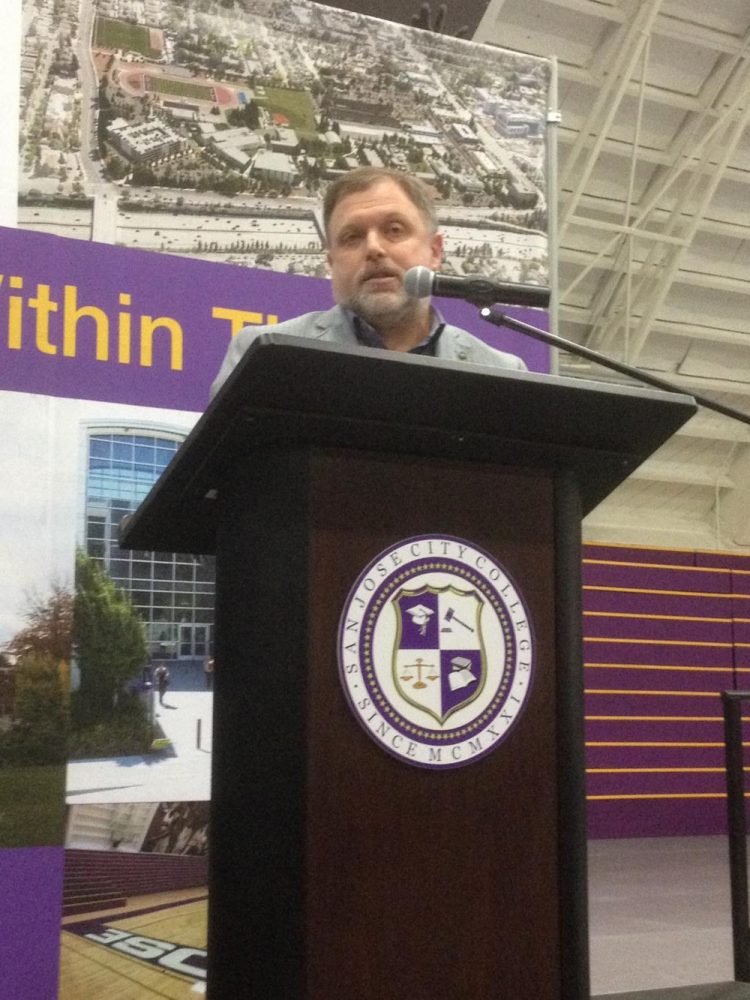 Leslie Aguilar, Times Staff
May 24, 2017
San Jose City College students had a chance to engage in a conversation about the social and political climate surrounding the current administration. On Thursday, April 20 anti-racist activist and author Tim Wise offered a platform for students and staff to voice their concerns and opinions through a lecture and Q & A.
His topics dealt with racial injustices, a critique of the ideology behind President Trump's agenda, as well as articulating the struggles that have historically affected communities of color.
"This thing about racial justice, this thing about equality, this ain't charity, this is radical self- help," Wise told the audience. "This is about saving ourselves and the country that we claim to love. Not making America great again, but making America great for the first and only time."
Students were generally pleased with the topics covered by Wise, who received claps and cheers when commenting on the Trump administration.
"That is what the election of Donald Trump is, it is back to our regularly scheduled programing," Wise said. "The scapegoating of black and brown folks, scapegoating them for problems they didn't create, that's not new, that's been going on for 400 years."
Wise urged the audience to seek more knowledge on the topics he covered, as he said learning about them could help combat the resurfacing of the racist and divisive atmosphere of America's past.
"We have to understand the past to understand the present. You can't teach what you don't know, and you can't know what you weren't taught" Wise said.
SJCC President Byron Breland offered an opening introduction, which included his own past experience with Wise.
"The last time I heard Mr. Tim Wise speak, I was a student in graduate school, back in the early 2000s" Breland said. "He's a lecturer that I've had the pleasure of following."
Ethnic Studies professor Jesus Covarrubias, prompted students to ask questions, and stressed the importance of thinking critically.
"As faculty member and a representative of your academic senate, we know our faculty at City really encourages our students to engage in courageous conversations" Covarrubias said.
The types of responses generated by his lecture were similar among faculty and students alike.
"I hope that he was able to stir up some intellectual curiosity, at least to go and read and listen to what's being said," said Breland "Where we're going in terms of our forward progress here in this country and also within our community, especially our communities of color."
"It's very informative, he is an individual who truly understands the realities that people of color are living in the United States," said Fabio Gonzales, a counselor at SJCC.
The demographic of SJCC proved to be especially relevant to the topics Wise discussed. Alyssa Marquez, a political science major, said she's glad this conversation was brought out into the open.
"It's important because San Jose City College is built on a campus of diversity, so if we don't actually acknowledge that there is a problem with acknowledging diversity, then there's no way that we can really flourish and do our best," said Marquez.
Some professors were accompanied by their students, many of whom brought along notebooks and pencils to take notes.
"Our entire community obviously can benefit from having a sobering conversation about the world we live in," Covarrubias said, who brought along his Ethnic Studies class.
"It's important that message be brought to our college, it helps to reaffirm what we see on a daily basis in our working class communities," said psychology and communications major Veronica Garcia.
Garcia said that Wise's message came at a crucial time.
"It applies because of everything that's going on, definitely with the election a lot of us are hurt by it," she said. "It applies to us just because we've lived it, but no one speaks about it, no one comes and says the things that we have deep down inside, that we're angry."
Luis Trujillo, a business major, said that regardless of the statistics he heard that depicted the unjust treatment of minorities, he feels that this speech serves as a powerful reminder that this country is a work in progress.
"The message he gives to communities of color is important," Trujillo said. "It gives the people hope, it makes them feel that there's still a chance to change, not just the system, but ourselves and society."