SJCC women tell their stories
English faculty organized a presentation from her book, 'Students Speak: True Stories from City'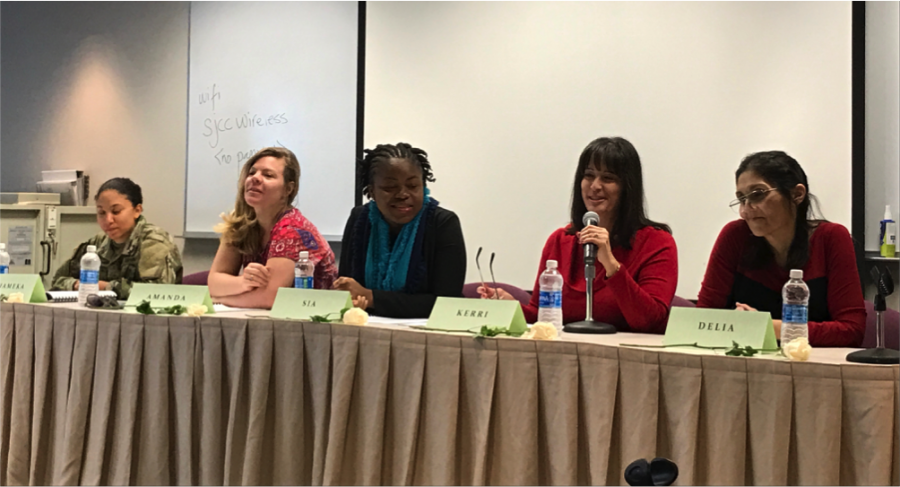 Anne Caillat, Times Staff
April 16, 2017
In honor of Women's History Month, the SJCC Professor of English Michelle Blair invited five former and current SJCC students to share their story in the Tech auditorium, on March 7.
Blair was expecting the audience would be inspired by the stories "because every of them was a story of life who ended up at SJCC."
Kerry Jensen, 46, an undergraduate English student, now at San Jose State University, was one of the speakers. She valued the project because it was showing stories of community colleges students.
"Sometimes people don't take community colleges seriously enough but it is a valid part of our educational," Jensen said. "I'm an older student, when I decided to go to college, I couldn't just drop everything I was doing. We push too many people to get 4 four year degrees. Vocational training is a very important part of our economy".
During the presentation Jensen told how, despite many life events, she never gave up the idea of studying and how she could, at 46, transfer from SJCC to SJSU, hoping graduate by 2019.
"I would like to say to the students: don't give up, if it is going to take you a long time to finish your education, don't worry, stick with it and finish," Jensen said.
Among the other stories that day, Shameka Rast, 22, talked about her willingness to become a firefighter.
Amanda Fuehrer, 28, told her battle to find a job despite her disability and the depression she was suffering from.
Sia Saquee, 21, told her journey from an international student to the president of Student Affairs.
Delia Martinez, 53, reminded the audience the daily fights of being able to go to school for someone with a disability.
Pauline Allegrini, 21, CSU East Bay Law major was visiting SJCC to assist to the presentation.
"It was inspiring, emotional," said Allegrini. "When you see them, you don't realize they have this kind of story. It made us realize the people's background and the struggle some people overcame."
Blair expected that the stories would make feel the students more aware.
She said "maybe we'll start a movement about 'telling your own story' and what that means and how that makes you feel better."
The event was hosted by the president's Art and Lecture Series Jason Adkins and the stories were coming from a project of book about students stories that Blair had for a long time.
"I have been touched by their stories and wanted to compile them," said Blair, who teaches a memoir class. "In magazines, telling your story is the 'zeitgeist', the wave of the time," she said.
She interviewed SJCC students and selected 22 stories of men and women. She's now looking to publish them as a book.