Opportunities open for all SJCC student veterans
The SJCC Veterans Resource Center and company Work2Future host a career and job fair
Students and veterans were invited to expand their careers and learn options about their future at the resource and career fair on Wednesday, Nov. 9 in the Jaguar Gym.
The main goal of the event was to connect students with companies in order to kick-start their careers with jobs that are open for new applicants.
Not only would students gain knowledge on the job, but they would also have a chance to obtain experience by working firsthand in the fields that they may have an interest in.
With a higher cost of living, especially in San Jose and the wider Bay Area, it is crucial for many people to have a well paying job in order to keep up with the rising prices in all aspects of life.
Through the host company Work2Future based in San Jose and the on-campus Veterans Resource Center students can connect with hiring managers from companies such as VTA, Chase, Farmers Insurance, Maxar Technologies and others. The diversity of job openings welcomes anyone who is looking for a competitive salary.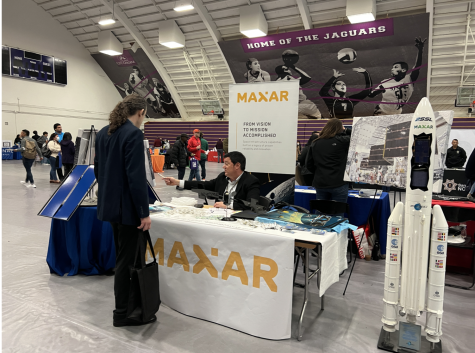 After discussing with the Associate Dean of Career and Technical Education Pamela Yang, she explained the reason why this career fair is hosted every semester during the fall at SJCC. "Our goal is to get students high paying jobs and higher salaries," Yang said.
Along with higher paying openings, students also have a chance to learn how to network and speak with professionals in their respective fields.
Even if students are not hired on the spot, just by attending they can learn how to apply their skills to jobs they were not aware existed.
During this fair, multiple students found success in advancing their career path, as is the case with Bebe Hsu, a 35-year-old nursing major who is attending her first year at SJCC.
She gave her thoughts on the career fair and if she felt that her skills could land her a job. "I want to see if my native language Mandarin is able to be used in customer service,"Hsu stated.
Students and community members who decide to take their first steps and attend these career advancements can learn more about companies who are welcoming new, young adults to the workforce.
Donate to City College Times
Your donation will support the student journalists of San Jose City College. Your contribution will allow us to purchase equipment and cover our annual website hosting costs.