KJCC finds temporary home
Campus radio station still airing despite construction delays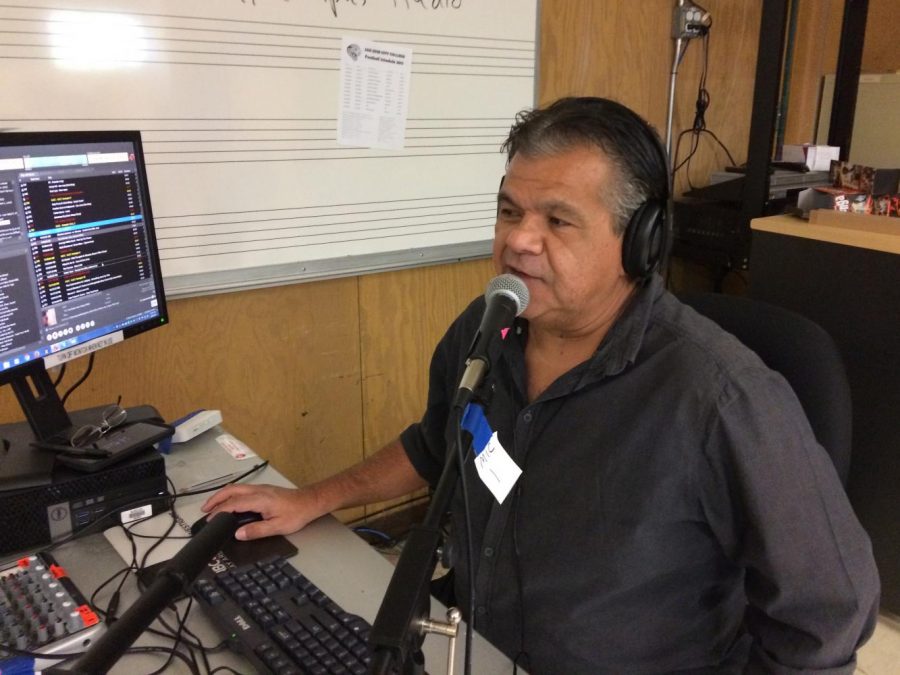 Tammy Do, Times Staff
October 16, 2017
It's a setting out of Phantom of the Opera – a dark room in a seemingly forgotten corner of the building, the row of old vanities missing their light bulbs along the wall, the boxes of old costumes piled in one corner, gaggles of music stands and one forlorn piano … and the pounding of classic rock? A look closer reveals some incongruous new occupants: a PC, speakers, a mini soundboard, headphones, and a live mic.
The old theater dressing-room at San Jose City College is the new temporary studio for radio station KJCC, which can be heard online at kjcclive.com.
Station manager Jeff Ochoa set up this makeshift arrangement at the beginning of the semester to keep KJCC on air, after construction delays on its studio remodel left the station without a home.
KJCC is produced and run by broadcasting students and Media club members, under the guidance of advisor Elizabeth Gebhart. It covers campus life and live sports events, as well as airing an eclectic blend of music, interviews, and talk shows.
"(Gebhart) has been in the industry for such a long time. She knows a bunch of tips and tricks about how to get started, what to do," Media club member Franco Orozco said. "The class is a lot of fun. It's a lot more hands-on … (Gebhart) tries her best to get the students in the booth, get it going, making their shows."
One of the goals for the station is to promote local performers and artists.
"If any City College student is in a band, or produces their own recordings … we can put them into our rotation," Ochoa said.
The station's sportscasters, led by "Voice of Jaguars" Zach Tater, cover all the Jaguars football games live. The games are then rebroadcast over the weekend.
"The football players' families depend on our broadcasts, especially for away games, to hear their sons' games," Ochoa said.
Originally scheduled to end in July, the studio renovation has been delayed by the expanding scope of the project.
"It is unclear when KJCC will be able to return to its studio on the first floor of the Student Services Center," Gebhart said.
Until then, KJCC will keep trucking on.
---
Fall KJCC programming schedule
Listen at kjcclive.com
Monday
9 a.m. – 11 a.m. Big Money w/ Big Jeff (Classic Rock At Its Finest!)
11 a.m. – 1 p.m. The Dharma Experience w/ Jef Dharma (Rock & Soul Oldies; Talk & Local Arts)
1 p.m. – 2 p.m. DJ Zed (World Music)
Tuesday
9 a.m. – 11 a.m. Big Drama with Big Drama (Movie Talk)
11 a.m. – noon DJ Sunz Show (Hip Hop)
Noon – 1 p.m. DJ HurriKayne (Music)
Wednesday
9 a.m. – 11 a.m. DJ Katherine Partida (Worship Music)
Noon – 1 p.m. El Show de Big Nick Santos (Campus Talk & Music)
1 p.m. – 2 p.m. DJ Jake Bergvall (Music) 1 – 2pm
TBA DJ Twist
Thursday
11 a.m. – noon DJ Sunz Show (Hip Hop)
2 p.m. – 3 p.m. Cec the Ronin (Music)
Friday
9 a.m. – 10 a.m. El Show de Big Nick Santos (Campus Talk & Music)
10 a.m. – noon Cecilysaurus (Hip Hop)
Noon – 2 p.m. DJ Shoko (Hip Hop)
TBA DJ Reggie
TBA Audacio
KJCC broadcasts all of the Jags Football games, as well as select Men's and Women's Basketball home games.
KJCC is open to play any music produced by SJCC students, and can record spoken word performances from SJCC artists. Any interested students should contact station manager Jeff Ochoa at [email protected]
*More shows will be added as the semester progresses, so keep up on Facebook for updates.