10 reasons to take Journalism at SJCC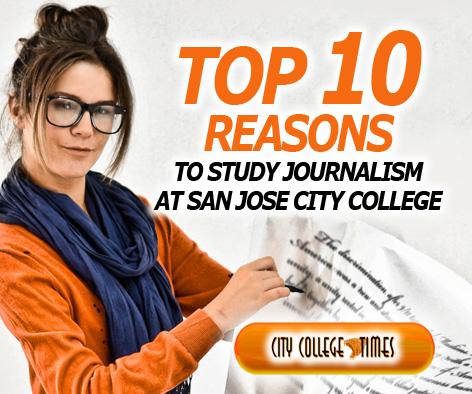 Presenting the Top 10 Reasons To Take Journalism/Media Classes At San Jose City College.
Drum roll, please …
10. Opportunity: The digital shift has been terrific for journalism. There are more news consumers today than ever before. That hunger must be fed. What do YOU want to cook up for them? There is no experience needed to take these classes. There are no academic prerequisites. Our staffers come from all walks of life, from recent high school grads to folks who graduated high school in the 70s. This is definitely an equal opportunity kind of place. If you are uncertain of your path forward, this class has often given students direction, a way to see what is possible.
9. It's never boring: A career in the media offers the potential for fun and excitement every day. A press pass gives you access to basically everything. It certainly is never dull. Few professions can say that. Ask an accountant or a retail manager how often they are excited about their assignments.
8. Flexibility: You can blaze your own path in any area you like. What do you find exciting? Breaking news? Investigative work, shining light where there is darkness? Roaming the halls of governing bodies and speaking truth to the powerful? The entertainment world with a front-row seat for concerts, plays, museum exhibits, etc.? The business world? Technology? Sports? Society? Lifestyle/culture? Photography? Videography? Design and illustration? Advertising and marketing? Humor? Opinion writing? You are limited only by your own ideas. Whatever realm you want to work in, you can get started in it at SJCC.
7. Gratification: As a journalist, you can make a difference. Journalists have the power to change lives in your community and perhaps around the world. Being a journalist is a great way to fight for social justice or give your readers a reason to be interested in a favorite sports team. You will enjoy driving home at night with the knowledge that your work was significant, it affected your community.
6. Exposure: There is no limit to the following you could create for yourself. SJCC Journalism students "learn by doing." You won't be doing homework; you'll be doing real work, and your work will be presented to the masses. You will get attention; people will notice your work.
5. Preservation of our democracy: There are few careers as important to our society.  Journalism is a pillar of our democracy. A free and open society depends on a free press. You will have freedom other careers don't offer, and in exercising that freedom you can ensure that our democracy remains functional. The media's role as watchdog is absolute and needed more now than ever. You can serve your community by providing news about people, places and events that make it unique.
4. Get out of class: The SJCC program doesn't resemble any other class. It's a "learn by doing" format that reduces class time. You will do a lot of your learning/doing outside of class, out in the field, on and around campus, in the community — basically wherever you want. Your assignments will be determined by you and your fellow students, not by a teacher. There are two classes weekly when you will meet with fellow staffers to organize your plans, then you will go out and write stories, take pictures, shoot video, etc., in precisely the same ways professionals do. You will get a press pass and guidance from student editors and a professional adviser. This is not a typical classroom setting, this is a newsroom setting. There is class time devoted to instruction, particularly a post-production critique session where you will get feedback on your work from the instructor, but most of your time is spent doing the job, learning by doing.
3. Travel and win awards: The City College Times student newspaper and news website routinely wins awards at regional and state conventions. The vast majority of those who win did not think they could. It happens over and over. You learn a little, you try your best, you learn from your mistakes and you try again, and then you get results: The amazing joy of being recognized among the best at your level (two-year colleges) in Northern California or the entire state. It's not just possible, it's likely. You will be competing against other students just like yourself. Most semesters those conventions where the award winners are honored (and where all Journalism students get to meet and learn from successful professionals including Pulitzer Prize winners) will take you to either Sacramento or Los Angeles — for free. Ever been to L.A.? Ever been on an airplane?
2. No matter what level you are at now, personal growth can be expected in multiple ways. The SJCC program will welcome you to a place where you can grow. Your writing level doesn't matter. No matter what your starting point, you will enjoy seeing yourself grow. Your writing will improve with practice. Your ideas and desire matter much more than writing or English skills.  You also will find yourself gaining an increased appreciation for ethics/integrity — and the value they have to a journalist. You will learn how the media operates and become better at critical thinking in order to know which news you can trust and which you can't. Our students are taught every day that a journalist has only one thing on which to stand — integrity. Journalism only works if readers trust the journalist producing it. If you're an honest person, this could be a great career choice for you. Working in the media is all about communicating and you will grow as a communicator. If you're a little shy, you will find others like you in our program. Come give it a try. Students have been known to come out of their shells while enrolled in the SJCC journalism classes. It's a time of maturity and growth for many.
1A. THE BUG! You might catch The Journalism Bug. Once bitten, watch out, there is no antidote for this "illness." Ask any professional journalist about how they caught The Bug. They all have a story of when and where and how they fell in love with the profession. When The Bug bites, you will find your life changes. Suddenly you have a new direction, a new purpose, a path forward, a career path. The bug might strike quickly, when you get your first press pass or the first time your byline appears and your friends and family are impressed. It might not happen the first week; it might take half a semester until you discover what a rewarding future is right there, straight ahead, within your reach.
1B. FREE PIZZA! Let's just say Domino's knows our newsroom well.
Come explore the possibilities at San Jose City College. This is an open invitation to come and learn. The cost is minimal compared to most colleges, and if you are unsure you can afford it, stop by the Financial Aid office. You might be pleasantly surprised. A lot of students go to school for free or almost free.
We recognize that students learn in different ways and at different paces. Come spread your wings and see what excites you in our low-pressure environment, one that closely resembles a professional news organization. Experimentation is encouraged. Try several roles. It's unlike any other class offering.
San Jose City College's fall journalism classes are forming now. Come join us today. Sign up for one of these 3-unit classes that meet Tuesdays and Thursdays:
JOURN 032A: Media Production 1
JOURN 032B: Media Production 2
JOURN 032C: Media Production 3
JOURN 032D: Media Production 4
Note: It's like a part-time job — you can make a pretty healthy commission (20 percent) selling ads for our newspaper and website.
For more info, email the adviser at [email protected] or visit us at Facebook.com/SJCityCollegeTimes. To sign up for classes, check out the school's website at www.sjcc.edu.
So many former students have cherished their time at SJCC. Here are a few quotes from our students:
"The best class I have ever taken."
"I won a few awards. I was like, 'Wow.' "
"It put me head and shoulders above other students when I transferred to SJSU."
"I had no idea what I had signed up myself into. I didn't like to write. I was shy. I had no experience. I found my love for Journalism."