SJCC student exhibits photos at charity event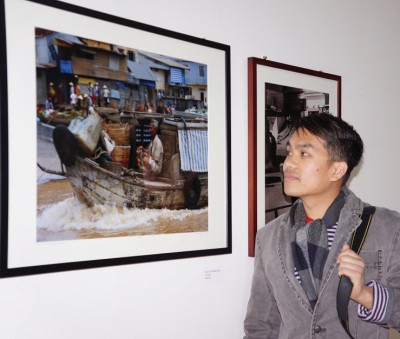 Through word-of-mouth, a San Jose City College student advertised his photography exhibition at the Vietnamese-American Cultural Center on Feb. 16 and 17 from 11a.m. to 5p.m.
The exhibit featured award-winning photographs, including a color photo of an old woman in Vietnam, as well as film-developed black-and-white photos.
Andy Nguyen, 31, Liberal Arts major with a concentration in Photography and Media, caught his subjects on camera from Vietnam and the United States.
The photos taken in the U.S. were mostly from the Bay Area. The photo exhibit also included photographer Kim Dang.
A video in Vietnamese broadcasted information about the Franciscan Charity to aid the disabled, poor and orphaned in Vietnam.
This same charity inspired Nguyen to organize the exhibit.
"My big inspiration is from Eve Mathias, San Jose City College's Art Coordinator, and other faculty on the campus always encouraged to keep grinning and don't ever lose my generosity," Nguyen said.
Nguyen also received support from his loved ones.
"I am very pleased that I have a good family and friends to sup-port me for my exhibit; including the Vietnamese American Cultural Center, Dr. Vu Ho and Mr. and Mrs. Ho, my loving sister and my brother in-law as my sponsor for this exhibit. Without them this gallery would not be successful."
The video expressed the need of monetary aid. There were two boxes to place donations.
"It set the atmosphere. It helps people imagine another country and their way of life. You can feel how the Vietnamese culture is like through the pictures," Aquilas George, 20, journalism major, said.
Food was placed in the center of the room, which helped spark conversations about the pieces dis-played. Some people were more expressive about specific photos.
"There was one picture with a man on a boat with the city in the background. It was colorful and full of action," Ramon Aguirre, an attendee at the exhibit, said.
It took one year to complete all the work necessary to have the exhibit, from planning each shot to developing them in the dark room.
Andy said he was most grateful to help the people in Vietnam.
Thirty percent of the profit from the photographs sold at the exhibit went to the charity.
"The Franciscan Charity has been supporting the orphans and disabled people in Vietnam for a long time. Since I watched the video, it inspired me," Nguyen said. "I feel that I am lucky that I live in America. I would like to share my talent in photography to support the children in Vietnam as much as possible."
Donate to City College Times
Your donation will support the student journalists of San Jose City College. Your contribution will allow us to purchase equipment and cover our annual website hosting costs.