Reprographics clicks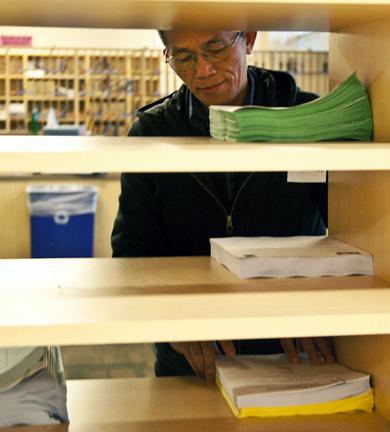 When faculty need a print job in a hurry, Reprographics is there to get it done fast, as they have been for more than 56 years.
"I will ask them, with a very short time frame, to do something heroic, and they come through 100 percent of the time," chemistry professor Madeline Adamcseski said. "I can't remember one time when I asked them for something they said no to or they didn't do it."
Graphic designer Jeffrey Fasbinder has been with the department for more than 22 years. He said the main function of Reprographics is to produce materials for classroom use, along with some promotional services for the district.
"Reprographics is a district function," Fasbinder said. "We do all the printing for any of the three entities, San Jose City College, Evergreen Valley College and the district offices."
Print jobs include classroom materials, fliers, business cards, booklets, posters and newsletters, and the volume of printed materials is between four and five million single-sided pages per year, not including offset print work, which is an ink-transfer printing technique.
There are four people on staff at SJCC and two at EVC, and Reprographics is open from 7 a.m. to 7 p.m. weekdays.
"Each location is open 12 hours a day," Fasbinder said. "So you can appreciate that when someone is out sick or on vacation, accommodations have to be made with each occurrence."
Reprographics also houses the campus scantron machine and handles all district mail.
The department has moved to digital printing from offset printing, even as the volume of work is down.
"We now can do full four-color printing, which is something on the offset presses we could not do," Fasbinder said. "We could do what was called spot color (with offset), which were areas of solid color, but now we can do full four-color process."
"Our overall volume has gone down somewhat," Fasbinder said, "The reason for that primarily is that the district has suggested that the faculty go as paperless as possible so more and more tests are being posted (on Moodle)."
With the usage of online coursework on the rise, students can print their course materials from Moodle, an online e-learning software that allows students to collaborate on coursework and download course materials from the Internet.
But Adamcseski doesn't recommend the headache of printing class materials and said she tells her students, "Do yourself a favor and buy it from the bookstore."
Adamcseski said they (students) can save a lot of time, trouble and money buying them from the campus bookstore.
"So they (Reprographics) actually produce six custom readers for each of my classes," Adamcseski said. "It reduces cost for students so they don't have to buy published documents. In the long run it's going to be less expensive and not time consuming."