Restaurant review: Tyme For Tea a treasure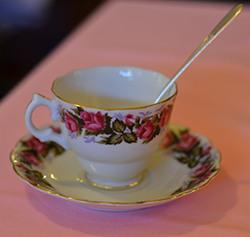 Alexandra Guglielmo
October 25, 2012
Hang on for a minute...we're trying to find some more stories you might like.
From its pink bathtub brimming with red and purple hats to its tea tables set with mismatched china, Tyme for Tea & Co. makes for a distinct and memorable dining experience.
This Fremont gem, situated along historic Niles Boulevard, began 20 years ago with only two tea tables in the back of its antique shop. Today, customers can reserve the tea room for parties of up to 50 guests.
My husband and I visited on a Sunday afternoon and were seated immediately.  We ordered a tea sandwiches plate and a tea pastries plate; each included a personal teapot and a side of fresh seasonal fruit (in this case, watermelon and kiwi) that cost $14.  We split the sandwiches and pastries so that we could try a little bit of everything.
I loved the artichoke crostini, a slice of sourdough spread with Tyme for Tea's own artichoke-cheese blend. My husband enjoyed the mushroom turnover with its rich pastry crust.  And if I had the recipe for the pecan-crusted chicken on wheat bread, I would eat it every day.
But the pastry plate left something to be desired.  Though all of the pastries tasted good, they were small, and not all of them were made in-house.  Of Tyme for Tea's own creation, the peanut butter cheesecake stood out as a unique dessert.  The crust was sweet, and the cream cheese soft and light.  Given the choice, I would order this item on its own.
With half of a menu page to choose from, we settled on the peppermint and chocolate orange fudge teas.  We enjoyed the pleasant aroma of the chocolate tea as it was poured into our mismatched teacups.  It tasted mildly of chocolate, and little of orange, but we would order it again, if only for its delightful smell.
The friendly staff seemed to expect guests to stick around awhile; we felt no pressure to pay the bill and surrender our table.
Though I felt awkward taking pictures of the tea room from every angle, nobody seemed to pay much attention.
The relaxed atmosphere surrounding the properly set tables allows any guest the comfort of a spot of tea.
After we finished our meal, we perused the antique shop in front, where we found two sets of coasters displaying chocolates in a 1940s ad style.
Teacups and saucers lined every available surface.
Specialty products, such as root beer fudge and lavender sugar, sat on shelves near the tea room.
The store's decor served as a reminder of fall's arrival, with a spread of harvest leaves here and a stack of ceramic pumpkins there.
We will return to Tyme for Tea because it reminds us of both the simplicity and the lavishness of times past.
While the tearoom draws mostly women, my husband enjoyed our visit (though next time, he might order one of the two full-size sandwiches on the menu, each $13).  I would like to try the three-course Victorian tea ($23 per person).
Because of its quaint charm, I rate Tyme for Tea four out of five stars.  Though the cost means a visit is only an occasional treat, it's worth skipping a couple of Starbucks lattes to save up for a special afternoon.
Halloween Witches Brew Ball
• Oct. 27-28
• Sittings at 11 a.m. and 2:30 p.m.
• $32 for holiday-only treats (includes tax and gratuity)
• Reservations: 510-790-0944
• 37501 Niles Boulevard, Fremont, Calif. 94536
• Costumes encouraged

Print