Car show raises money for scholarships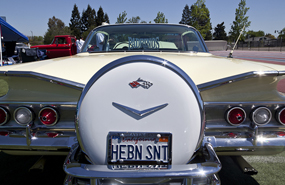 Hang on for a minute...we're trying to find some more stories you might like.
[imagebrowser id=2]
Lowriders and  classic cars with a style all their own rolled, bounced and glided into the San Jose City College stadium Sunday, April 22 for Movimiento Estudiantil Chicano de Aztlan's third annual car.
To have this car show, MEChA had to pay the fees and arranged the show themselves.
"We went to different car shows in the Bay Area to pass out flyers and talk to them about our car shows," said MEChA President Jeff Geurtin Perez.
According to Streetlow Magazine, this car show would be the first car show in San Jose this year.
Perez said because the last car show took place on  Mother's Day weekend in May 2011. Not many people came, so this year the show was held in the beginning of summer, and the turnout was larger.
Twelve car clubs from the Bay Area joined the show and brought 130 cars for the show.
"We have the car show for student scholarships," said Perez. "The scholarships are not for MEChA club only but for all students at SJCC."

Print