Five Women Sculptors show highlights campus talent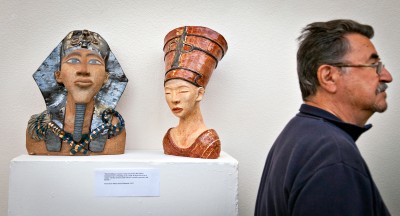 Ceramics instructor Michelle Gregor organized a sculpture exhibition to celebrate women's history month and showcase her students' works.  About 50 people attended the reception, which was in the Fine Arts Building, Room 307.  The show continues through April.
There are approximately 25 sculptures, which showcase each artist's talent, perspective and inspiration.  The pieces included ceramic stoneware sculptures, vessels, bowls, vases, Egyptian-inspired busts, as well as ceramic figurines.
"These were students of mine over the past couple of years, and they were all chosen because they are exemplary in their own right," Gregor said.
Art major Rosa Harrison has several historically-inspired pieces, which included a green ceramic vase with the tree of life carved on three sides.  Harrison said the vase was inspired by a Mayan piece she found during her research into historical artwork.
"There are actually four symbols that symbolize the tree of life, and I took three of them and put them on this piece," Harrison said. "I decided to do the ceramic glazing in this green because it lent itself to this whole idea of the tree, life, growth.
Art major Bernadette Fernandes' piece is an abstract bird form inspired by Native American art. She said she preferred making the form rather than drawing it on a vessel.
"It is based on Mimbres pottery, which is an ancient North American tribe," Fernandes said. "They used high contrast slips, which is a glaze. They had forms of animals, just simple, primitive forms."
The sculpture sits on a pedestal designed by theater art major Casey Jane Satterlund.  Satterlund's line work on the pedestal complements Fernandez's Mimbres-inspired sculpture.
Satterlund said she did not have a specific inspiration for the pedestal and worked for a total of 12 hours to complete the piece.
"I thought it looked African and a little bit Indian and even Celtic," Satterlund said. "I ended up using a lot of negative space, and you can see the lines and the flow of it when there is space left untouched."
Rocio Mora, a 28-year-old art major, is inspired by Egyptian, Mayan and Aztec history. She had two Egyptian-inspired busts, Nefertiti and Akhenaton, that reflected those interests and said building in ceramics brings her back to memories of making art as a child.
"It allows me to be in contact with this element, earth, which is so tactile, generous and humble," Mora said.
Artist and SJCC alumna Ri-Ta had several pieces that depict the feminine, as well as small ceramic figurines.  For her piece, Utopia, Ri-Ta created a sculpture that celebrated the female form.
"I made Utopia a few semesters ago, and what I had in mind was a woman with natural beauty," Ri-Ta said.
The reception also included art major Allison Sandoval.  Sandoval's performance art piece "Noah and the storm of righteous anger," was a live-action skit that added humor to the event.
"It's about having fun more than anything, and I just wanted to make people laugh," Sandoval said. "I wanted to entertain people and if that inspires them … to do something crazy and fun then what more could I hope for.
Sandoval, who played Noah, recreated the great biblical flood but added a drowning dinosaur, played by Chris Crotty, to the scene for irony.  In the piece, Noah peddled a bike on the sidelines of the flood to activate the wave motion, while a dinosaur languished in the waves.
From behind the scenes, Sandoval's friend Kevin Fager manually operated the movement of clouds.  To complete the story, a fake dove was lowered by stick and line onto Noah's hand, signaling the end of the flood.
"The bicycle I always knew would be incorporated," Sandoval said.  "My dad helped tremendously with the construction; and if it did not work, we tried again and finally it is the finished piece."
Gregor said the Art Department would like to have a similar show next year for women's history month.
"Next year we're looking forward to having our brand new building with a gallery, a real gallery," Gregor said.  "Maybe next time it will be even bigger and better."
About the Contributor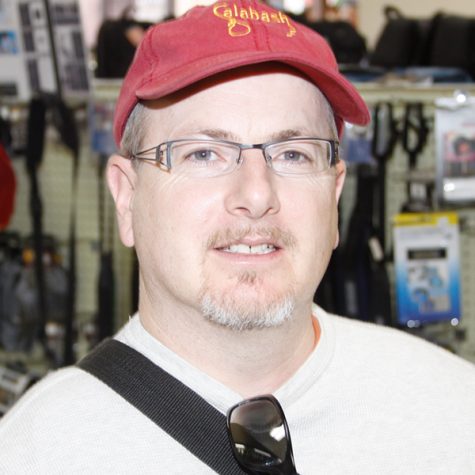 Steve Hill, Copy Editor
Hi, I'm Steve Hill. I have a B.S. in Ecology and Evolutionary Biology from UCSC, and I would like to do graduate work in photojournalism. My interests...