Meet the "Thug Lordz"
A new album is coming soon
Fans may remember C-Bo, real name Shawn Thomas, from the track "Tradin' War Stories" off of Tupac Shakur's critically acclaimed album "All Eyes On Me."
C-Bo, a west coast "gangsta" rap artist active since the 90s, is currently working on a new album set to be released sometime in the near future. Thomas also recently released the singles "Mo Money", "Let's Ride" and "The Hustler", all of which are available for listeners on both Spotify and YouTube. He is also notorious for being one of the few rappers ever incarcerated based on the content of his lyrics.
In 1993, C-Bo put out his first studio album "Gas Chamber". This album, along with his next four releases all charted on the Billboard Hot 200.
"Tales from the Crypt" and "Til My Casket Drops" were number four on the Billboard 200," according to C-Bo.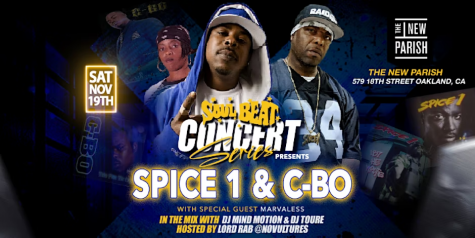 The west coast rapper also assembled rap groups The Dual Committee and Mob Figaz, the former of which made an appearance on his debut 1994 album "The Autopsy."
C-Bo himself is no stranger to collaboration, being part of a duo who refer to themselves as
"Thug Lordz" with fellow artist Yukmouth, who released a trilogy of albums during the mid-to-late 2000s. They announced that a new album is forthcoming on an episode of Yukmouth's music podcast Smoke-A-Lot Radio.
However, they refused to elaborate further. They did not specify a release date, nor a title for the album.
This is an intentional move, a point which was highlighted on their show, "We ain't telling you the name of the album because y'all lil' babies be thievin' and teething. We 'bout to drop a nuke bomb on you…," Yukmouth said.
They weren't all business that day, though. The Thug Lordz sent condolences for late rapper Takeoff as well as to his family and friends, while also commenting on the uptick of deaths in the hip-hop world:
"Condolence to Quavo, his family, rest in peace to Takeoff. Straight up homie. Another big loss to hip-hop. This s— is bulls—. We are losing rappers every motherf— day. We becoming extinct, bro, like in the next five years it ain't gonna be no real gangster rappers left, no real street rappers left. N— is gonna be locked up or dead, man, at the way we going," Yukmouth said.
Donate to City College Times
Your donation will support the student journalists of San Jose City College. Your contribution will allow us to purchase equipment and cover our annual website hosting costs.