SJCC International program counselor Doriann Tran discusses dropped ICE plan to deport foreign students attending online-only classes
The Times staff interviewed international counselor Doriann Tran about her perspective on the recent Trump Administration rule changes regarding in-person class attendance for international students. The rule required international students to leave the country if they can only attend classes online but was rescinded by the Trump Administration on July 14 after a legal challenge from multiple universities. SJCC will continue to prepare for any future rule changes and advocate for international students if a new rule is implemented.
What was it like when you received news that there was a new government rule that international students will have to leave the country if they do not take in-person classes at their respective schools?
A: We thought after the July 4 weekend things would start slowing down, and we could just catch our breath because it's been a long couple of months. It is always busy for us in the international program, but it was extra busy when the shelter-in-place ordinance was put in place.
But as soon as we came back on July 6 there was an email from SEVP. I was in a state of shock, and I was angry as well. I thought how dare the government decide that during this time, during this pandemic, they could try to enforce these rules that don't even make sense.
They (the international students) are stuck in this situation. They can't go home because there are a lot of travel restrictions at this point. What are they going to do?
Can they transfer to a school that offers in-person or hybrid classes (part online and part in-person)?
A: Schools have already planned to do online or virtual instruction this fall so having this (rule) in place was going to jeopardize all of that.
In order for them to transfer to another school, it's like applying all over again. If they plan to transfer to a school that offers hybrid courses, they have to submit a lot of documents. They can't just go over and apply and submit an application.
They have to submit immigration documents, I-20 visa, copy of F-1 visa, bank documents and proof of funding. It takes a lot for students to decide to transfer. The ordinance would have required that.
The deadlines have already passed or it's going to be in July, which would have a short turnaround time. For a community college, we're more flexible with our July deadline; but at a lot of the four-year universities, students can't just move. The deadline has already passed.
Where are you going to go? That was a difficult situation for those students. They can't leave the U.S. because of travel restrictions, and their country may not let them in (if they do decide to return).
If they were in a school that was just going to be online, they couldn't stay in the country to study. They would actually have to leave the U.S. and study remotely outside the U.S.
How did the international student program and SJCC plan to deal with the rule before it was rescinded?
A: As soon as we learned of the July 6 broadcast message modifying the Spring 2020 exemptions regarding online study, our international program team quickly went into action.
We communicated with our students via email and social media on what to expect and how our college was addressing it. We rallied support from our campus faculty and administration and worked collaboratively with them and departments/divisions on developing a cohesive hybrid plan to address the guidance.
An SJCC president's townhall for international students was also scheduled on July 10 so our campus administration could also hear about the concerns from our students.
So from July 6 to July 14, we were trying to figure out a logical way of addressing this. We had to communicate with our students, communicate with our administration.
We actually gathered a lot of data during that whole week. It's a lot of layers of trying to get support on campus, trying to get the data from district tech, going through the data (to find out) how many of our international students have registered for courses this fall and what courses are more popular.
Then we created a chart of those courses, who did they have as a professor, so reach out to those professors first. That was our plan. We were trying to execute our next step.
We had several meetings with our administrations, deans just to make sure that we're all on the same page.
So the whole week we were doing this and then all of a sudden on Tuesday, July 14, we found out that they were going to rescind it.
Even Tuesday, that morning, I had a meeting with the dean to figure out a plan to identify faculty who are willing to support this, willing to help, even to show up on campus once during the whole semester because that would count as a hybrid class.
We were trying to find different creative solutions to make this happen and then around 12 o'clock, I think that's when Harvard had the court hearing. That's when they (the government) rescinded it.
Having these international students transfer to another school or go home, that would have been devastating to our school. They're students. It's so unfair, so wrong for them to even have to consider leaving so we tried to explore the best solution.
What's your reaction to the rescinding of the International Students rule?
A: We are thrilled and relieved that this absurd rule was rescinded.
This directive would have required students to attend at least one course on campus or risk jeopardizing their student visa status in the midst of the pandemic when the health and safety of our students, campus employees and community should be the highest priority.
It makes our government look ridiculous as well. I mean these last minute rules, changing it, rescinding it, what are they going to do now? They're so unpredictable. The government here is so unpredictable and it results in all these negative consequences for students.
Why this rule in the first place?
A: The F-1 (visa) regulations during normal operations allow international students to take only one online course (or 3 units) to count toward their full-time enrollment.
The government was trying to justify this directive by stating that international students attending institutions operating remotely are not allowed to remain in the U.S. and did not need to remain in the U.S. to study online.
The government was applying the rule that applies to traditional online programs, not taking into account that this pandemic and shelter-in-place ordinance are beyond the control of the institutions who, under normal conditions, operate on campus.
The government also failed to recognize that international students have gone through so much to realize their dream of studying in the U.S. — a strict vetting process that includes applying to schools, preparing for the visa interview, visa interview, preparing to come to the U.S. (cultural, living, academic adjustment) — to just be required to leave on a short notice after not completing their degree.
These students are from many different countries. Some may not have reliable internet access, coupled with different time zones, which makes it a less ideal environment to study in their home country.
So they have a requirement that they can only take one online class or only count one online toward their full-time status. This helps (avoid) the situation where students end up going to some questionable online schools, online programs, where they may get scammed. You see that sometimes, too. We try to avoid that.
So I understand that part, but that's normally during normal operation. We're in a situation where there's a pandemic. It's not like San Jose City College or Harvard or any of the other schools decided that they want to be online.
We have county ordinances or statewide ordinances during this pandemic. It's not within our school's control or even our students' control to study online so it's like they're trying to apply rules from a normal situation to this (pandemic) situation. But we know there are underlying issues regarding immigration.
Do you think that's the last we'll hear of it?
A: I think we still need to be advocating for our students because we don't know.
As one has witnessed, the administration is unpredictable in trying to execute this order. There might be a situation where they are going to angle it a different way where maybe they're going to suspend students from coming into the U.S. That's going to be a damper as well.
I see that as being more of a possibility at this point, trying to restrict students coming in, but we must remain positive and hopefull.
What does international student enrollment look like for SJCC in the fall?
A: For the fall it looks like there is probably not going to be any new students coming in unless they can get their visa interview late in August and come here on time.
But in general, students who are trying to apply to start in the fall — for the whole country — are going to have to wait.
We do not anticipate any students coming from outside the U.S., unfortunately. They simply can't enter the U.S..
How many International students are at SJCC?
A: In the spring we had over 200 students, but a lot of students have transferred this semester or some of them went home. We're at about 175 right now. We're going to be about the 150-160 range in the fall.
Does SJCC rely heavily on international student tuition?
A: It's nice to have that kind of support, but we are one of six schools with basic aid so we are not dependent on securing revenue from international student tuition.
Our school district is in better shape than other school districts because our funding is based on local funding, property taxes, in Silicon Valley.
We do our best and work very hard — our team does — to make sure to attract more international students to SJCC, but we're trying to attract them and have them enroll because they add so much culturally to our campus by contributing in the classroom.
How do you stay in contact with the students and keep them engaged in the program during the pandemic?
A: I really like San Jose City College. I feel like there's so much that it offers and I feel like we're moving in the right direction in the community as well in terms of our visibility.
The support that is provided to the students, I feel like they won't receive that at a bigger school.
We do a lot of cultural programs and activities for them; and even during this pandemic we try to do social activities such as Zoom events, streaming movies, things like that. We try to do that during the school year, games online, different things to engage them.
We want to welcome the international students. They bring a lot to our campus as well, just the classroom, studying, and there are other benefits as well. The priority and our goal is we want cross-cultural engagement from different countries which creates mutual understanding and benefits us globally. We want to study in their country and they want to study in our country.
About the Writer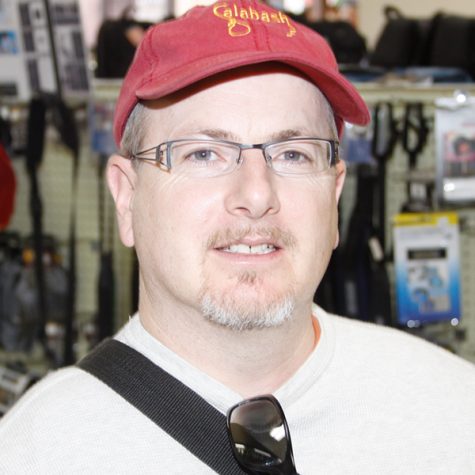 Steve Hill, Copy Editor
Hi, I'm Steve Hill. I have a B.S. in Ecology and Evolutionary Biology from UCSC, and I would like to do graduate work in photojournalism. My interests...