Keeping the campus safe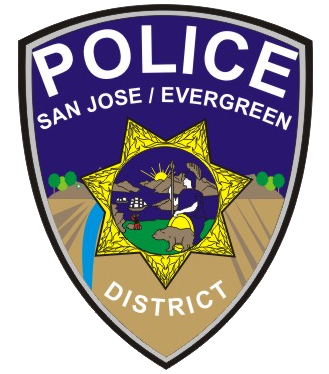 Michael Annino, 31, is one of four full-time police officers employed by the district to ensure the campus remains a safe place for the students and staff of San Jose City College this semester.
"Police presence is extremely important for all campus-based police departments, including us. Police officers presence offers many positive aspects for the community, including giving individuals the sense of security and safety, the ability to deter crimes, and the sense of community engagement, to name a few," Annino said.
Policing at a school like San Jose City College isn't without its challenges, with a student to officer ratio of 4,803 to 1. Foothill-De Anza has a student to officer ratio of 2,180 to 1, West Valley-Mission has a ratio of 2,268 students to 1 officer, and the SJPD has a ratio of 1 officer for every 794 residents.
"The ratio is not ideal at all for police officers, but we try to do our best to meet the needs for our staff and our students," Annino said.
The open campus and ever-changing climate around the school is also a challenge, one the officers face every day.
"The constant climate around San Jose City College has been a challenge, in the sense of we have Valley Medical Center, EPS right across the street, growing number of homeless encampments around this area, so that in itself is a constant challenge we have to face," Annino said.
"One of which is because we are an open campus, so that means anyone can come on our campus, whether they're not a staff member, or whether they're not a student they can come here. Sometimes it's difficult for us to differentiate why someone's here if they're not a student or staff member, so that's a constant challenge we face," Annino said.
Despite the challenges, the department and its' officers are doing what they can to face those challenges. Annino emphasized the importance of student and staff safety, saying it's their No. 1 priority.
"Although we are a small police department, I cannot emphasize the importance of safety for our students and staff; it's our No. 1 priority, but we share this responsibility with the community we serve, and we must continue to work together to be successful," Annino said.
The inclusion of technology, such as the partnership with Rave Mobile Safety, means students and staff can quickly receive critical emergency information.
"Technology has changed modern policing for the better, as a whole. Programs like the Rave Program has allowed this police department and other community campus-based police departments the ability to reach out to students and staff in emergency situations with just the push of a button," Annino said.
"I'm not sure how it was done before; that was prior to me becoming a police officer, but I can only imagine the difficulties that campus-based departments had in notifying staff and student about an emergency situation, so yeah. Technology like this has been fantastic."
The department not only provides patrols both when classes are in session and during holidays and weekends, they also provide assistance and safety escorts, conduct any criminal investigations, and run the lost and found, among other services.
A full list of services offered and additional information can be found on the district website, the San Jose/Evergreen Community College District Police Department Facebook page, and in the police substation, located within the Student Center.