Is education on its way to becoming free?
California law promises a free first year at community college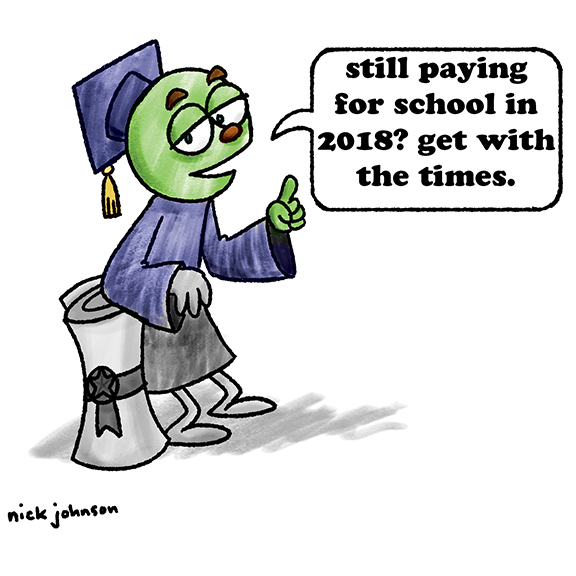 Alix Duhon, Times Staff
February 20, 2018
A new law that changes the educational system has optimists hoping that college will one day be free in California – just like in Europe.
Gov. Jerry Brown signed a bill on Oct. 13 called California College Promise, which might allow 19,000 students to get their first year of community college education for free.
Currently, community colleges are required to charge an "enrollment fee" of $46 per unit per semester for residents (out of state and international students pay a lot more).
Assembly Bill No. 19 will "offer free tuition to all full-time first-year students, regardless of financial need."
Justine Dusautoir, 30, an international student at Foothill College, was surprised by the news.
"No way, that's really good … School's really expensive here. I wish it (applied to) international people as well," Dusautoir said.
AB 19 follows New York's move to free tuition at its public colleges through a scholarship program in April, and Tennessee waiving tuition for adults over 24 at its community colleges in May – changes that attempt to combat the expensive, and rising, cost of education in the US.
Some countries in Europe, including Austria, Denmark, Finland, France, Germany, Greece, Hungary, Norway, Poland, Slovenia and Sweden already offer free higher education. Three of them – France, Germany and Norway – also extend free tuition to international students.
"Approximately 40 million of Americans have student debt," Marketwatch.com reported. "Nearly 70 percent of bachelor's degree recipients leave school with debt."
In addition to tuition, students have to take out loans to cover textbooks, housing, and other living expenses.
Nick Cafrelli, 28, who graduated from Framingham State in 2014, said that he cannot afford his own place due to his student debt, and has to live with his parents in San Jose.
"I am 28 years old, and have more than 20 years of student loan payments in front of me," Cafrelli said.
The reality is that he's not the only one. The Bay Area has the highest cost-of-living in the US, and with the housing crisis, it stands to only get higher.
If funded, AB 19 would allow students to get a leg up on their college education, and save money in their first year.
According to EdSource.org, tuition for full-time California residents currently costs around $1,100 to $1,400 a year; offering it free would cost that state $30 million to $50 million a year.
Besides the price tag, opponents have other reasons for balking at the move.
"One of the problems I can see is (that) obtaining a degree becomes rather easy," SJCC student Raquel Machado Couto wrote on an online forum. "The value of degrees would eventually decrease, (just) as a high school diploma is no longer as valuable as it was many years ago."
Awatef Chemssi, 28, who graduated Mission College last year, frames the issue more in terms of civil rights.
"Everybody should have access to education," said Chem­­­ssi, who now works at Google. "Get a chance to get a diploma, get a good job, make money; to be able to live and stop only trying to survive."