The Tattooed Lady
Embracing ink as permanent art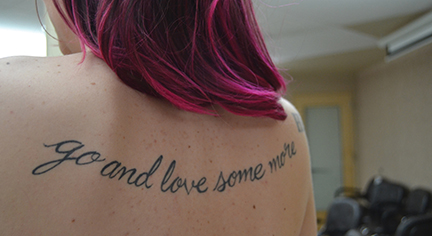 Tammy Do, Times Staff
February 1, 2018
In a classroom at San Jose City College, a group of America's future purveyors of beauty have gathered to share their most personal beauty statements: their tattoos.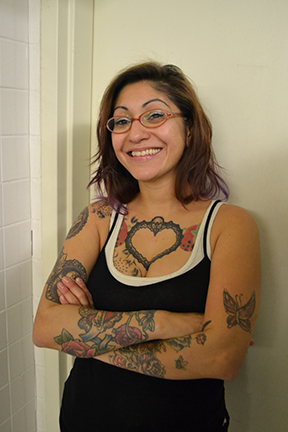 Recent cosmetology graduate Claudia Bruno turns around and pulls up her scrub top to reveal the delicate cursive that spans across her back: "Go and love some more." They're meaningful words taken from "Harold and Maude," she says, and next to them sit the big block letters of her brother's initials.
It's a long way from the first place the American mainstream encountered tattoos on women: in "freak" shows and circus acts of the late 19th century.
According to cultural scholar Anni Irish, tattoos were "associated with criminality and underground, seedy things" in the decades before 1900 – so much so that it could be something of a novelty, or entertainment to see a "tattooed lady" – as she discusses in her lecture on tattoo history "The American Tattooed Ladies: 1840-2015."
It's undeniable; tattoos are continuing a generational shift towards becoming more acceptable, and popular. The trend is particularly marked among women, who in 2012 overtook men in having tattoos (23% to 19%), according to a survey by The Harris Poll.
A 2010 study by Pew Research found that 38% of millenials have at least one tattoo, as compared to 23% of all adults. Furthermore, of those supporting a tattoo, more than two-thirds have more than just one, and 18% have more than six – compared to just 6% of their Gen X counterparts.
Some dismiss the popularity of tattoos as a fad, but it seems (barring expensive and painful laser removal) that it is one that is not likely to fade.