New café opens in theater
Alex Wright
November 3, 2015
Hang on for a minute...we're trying to find some more stories you might like.
Mid campus now has access to coffee and assorted snacks
Students walking by the business building may have noticed signs with balloons advertising a KJ's Café à la Carte.
KJ's Café à la Carte opened a location on campus for the first time on Wednesday, Oct. 14.
Katherine Bailey, KJ's Café à la Carte president and owner, was on site for what she called a soft opening with a grand opening to come at a later date.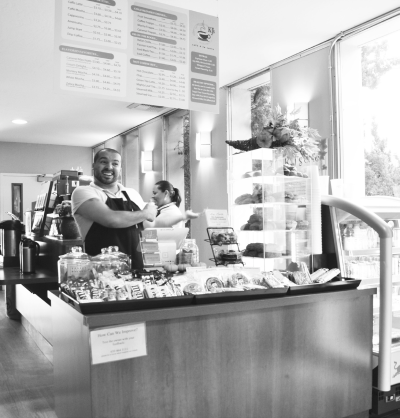 "We'll be serving gourmet coffees and teas, iced beverages, grab-and-go sandwiches, salads, wraps, parfaits, fruit and other assorted snacks," Bailey said.
Students with classes nearby investigated the new café.
Before the café opened students with classes in the Business and Multi-Disciplinary buildings had to walk to either the Technology Center or the Student Center to get food or coffee, a task difficult on a 10-minute passing period. Now they can go to the nearby theater lobby.
"I love it because it's just so convenient," SJCC student Hayley Leonard said. "I have a drama class in the theater, then I have psychology in the B building 10 minutes after. I don't have time to walk to the Student Center or Tech Center."
The atmosphere of the café is quite different from the cafeteria with wooden floors, mood lighting, decorations and art on the walls.
"It seems kind of homey," SJCC student Robert Longshore said. "It's not like the cafeteria. It's quiet. It has a nice space to it."
KJ's is a small business that has been operating since 1992 and serves Equator Coffee, which is an organic and Fairtrade product from a  female owned company in Marin County.
KJ's Café donates money to various charities and causes throughout the year, Bailey said and noted the barista working that day, Jesus Del Toro, wore a pink shirt in honor of Breast Cancer Awareness month.
With the addition of KJ's Café, students now have three different locations on campus they can go to for edible goodies instead of two.
"I think it's a nice new choice and different options instead of cafeteria food," Leonard said. When stopping in for the first time while on break from Art History class, SJCC student Erica Christopher said, "It's like Christmas!"
---
Café Hours (Updated)
Monday-Thursday: 7:30 a.m. to 8:00 p.m.
Friday 8:00 a.m. to 12:00 p.m. (noon)

Print