Latino Heritage Month signs off with the history of music
Araceli Lopez
November 3, 2015
Hang on for a minute...we're trying to find some more stories you might like.
Rich journey of cultural history
Latino Heritage Month concluded with a presentation by ethnic studies professor and current President of the Academic Senate, Jesus Covarrubias on Oct. 15, outlining eight historical eras with specific examples of instruments used and themes which highlighted relationships with the Latina/o environmental and cultural struggle.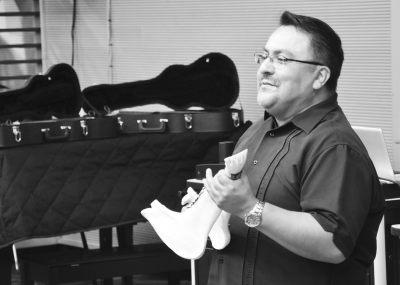 Sept. 15- Oct. 15 was Latino Heritage Month on campus, which was celebrated to increase awareness about the history, identities and struggles of the Latino/a population.
Covarrubias took a sabbatical from Fall 2014- Spring 2015, in which he researched Mexican-American music.
"Music is a part of all our lives," Covarrubias said. "Music is personal, who we are and important to understanding history."
During his sabbatical, he spent a lot of time in the library researching and in the studio, recording selections of music with fellow musicians, he said.
Covarrubias quoted Alan Lomax, a folklorist and ethnomologist in his presentation that "Music, like many other human things, is a pattern of learned behavior, common to the people of a culture."
From the Mesoamerican period to the Mexican-American War to the Chicano movement were just a few of the historical periods that Covarrubias covered in his presentation.
Covarrubias shared snippets of audio he recorded and also performed with older instruments he brought to show the audience.
Son Jarocho is a traditional type of music that Covarrubias wanted to explore more of and finally had the chance to do so.
He said he really looks forward to the music jam sessions with fellow faculty, if possible.
Counselor and professor of Administration of Justice Alex Lopez has encouraged teaching a class on Mexican-American music to which Covarrubias is currently trying to achieve making that class available for students.
"(Covarrubias) had an awesome presentation… (it was) so eclectic and (he) pieced it together," Lopez said about the lecture.
A former student of Covarrubias ethnic studies class Ana Castillo, 34, Child Development major, had nothing but good comments of Covarrubias as a professor and found the layout of the presentation's handout extremely helpful.
Castillo expressed her interest in joining the Mexican-American music class, if ever available.
The music recordings Covarrubias collected and performed over his sabbatical will be available to students who enroll in his Mexican-American History class. Covarrubias also said he is hoping to publish a CD and have it more readily available within the next year.
Covarrubias has also been a part of his share of bands, gone touring, recorded half a dozen albums and is a part of Los Nite Liters, a Hollister and San Jose based band.
For more information about Los Nite Liters, visit: www.losniteliters.com.

Print