Montero uses different painting styles in her artwork
Ann Elizaga
November 17, 2014
Hang on for a minute...we're trying to find some more stories you might like.
SJCC International student has many artistic talents
[media-credit id=1 align="aligncenter" width="600″]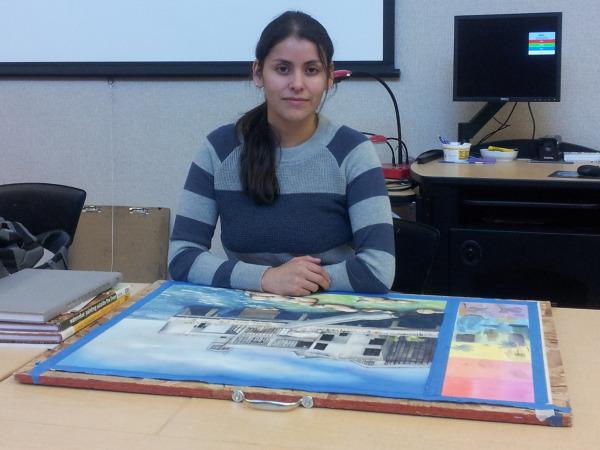 [/media-credit]
Janeth Montero, is a San Jose City College art student whose passion has led her to paint her art in many artistic ways.
"I always wanted to do painting and drawing. I was 6 years old when I won an art contest in Mexico, didn't have any opportunities to study art in Mexico," said Montero, a senior fine arts student.
Born June 4, 1987, in Mexico, Montero said she came to San Jose in 2009.
"Janeth is one of our best students. She is very talented and hard working. I don't know a lot about her, as she is quiet, but I'm sure she has an interesting story," Judith Bell, a fine arts instructor at SJCC wrote in an email. "She has had several pieces in student shows, including watercolors and drawings."
Montero said she uses different painting techniques in her artworks.
"I'd say I'm still trying to find my style, but so far, I like to paint in a representational and naturalistic way, such as landscape and still life," Montero wrote in an email. "I feel attracted to the realistic style rather than the abstract."
She is open to try any kind of style, she said. "I guess I need to have more experience to develop my style because for now I'm just practicing what I have been learning in art classes."
Montero said she started with her ESL classes, GED classes. She got an AA degree in 2012, majoring in fine arts, transferred to San Jose State University in 2013 and came to SJCC to retake a painting class.
The SJCC painting student likes to paint in different tones.
"I like warm colors and nature colors," Montero wrote. "I also like bright, vibrant colors."
She said she has displayed at the SJCC gallery, participated in the "Collective Concepts" exhibition in 2013 and showed three drawings and two paintings. she also participated in some regular student exhibitions, showing paintings and mix media works.
She said she uses different painting materials in her artwork, including graphite, ink, acrylic, watercolor and mix media.
Montero said she wants keep working on her artworks.
"After I finish up with art classes I'd like to keep working on my paintings and I hope that in the future I have the chance to show my work to others," Montero wrote. "I'm also studying graphic design, so I'll keep working on those two fields and see what happens."

Print