Performers celebrate Black History Month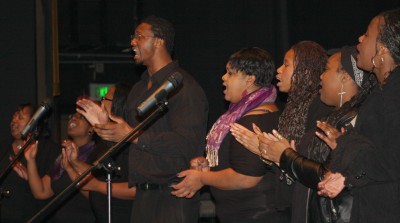 It is a month-long celebration of the history of black cultures. Black History Month started as Negro History Week in 1926 by Carter G. Woodson. It was to educate the American people about African Americans' cultural backgrounds.
Education prepares us for the future, as Malcolm X so eloquently stated: "The future belongs to those who prepare for it today."
Black History Month was celebrated at SJCC on Feb. 20 in the theater with the Gospel Musical Concert performance "Lift Every Voice." The events included: musical performances by Yeshua and The Hightones and Miguel Gonzalez, Cuban salsa music and dancing, "Te's Harmony," a parody of Romeo and Juliet, "California Style" performed by Artist and Talent and culminated with a musical depiction of the African and African American experience by Akoma Arts and Tabia. The Associated Student Government and the Diversity Advisory Committee sponsored these events.
Director of Student Life Elizabeth Eckford said she believes the celebration of cultures throughout our community is very important.
"It lends itself to pride encouragement and uplifting of the peoples within that culture," Eckford said. "Black history is one of many cultures we plan to continue to celebrate within our community."
[portfolio_slideshow id=7429]