Campus observes World Aids Day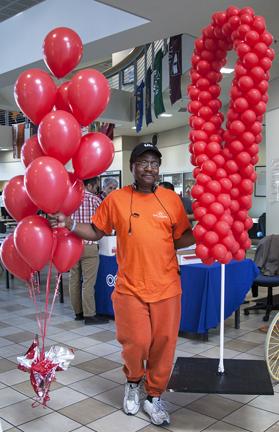 A trio of information booths in the Student Center served up popcorn, cookies and condoms on Dec. 3.
San Jose City College commemorated World Aids Day by hosting the booths, which were staffed by volunteers who passed out HIV/AIDS information as well as the treats.
"World Aids Day is a day to reflect not only on those who have passed, but also on successes that we've had along the way," said Malaya Arevalo, HIV/AIDS program manager of Asian Americans for Community Involvement.
One of those successes was the passage in 2010 of National HIV/AIDS strategy, a United States government plan to address HIV/AIDS prevention as well as care and treatment. "It (the strategy) is pushing us as a country to tackle HIV/AIDS prevention, care and treatment concretely," Arevalo said. "Other countries were required to have a plan to deal with HIV/ AIDS before the U.S. would offer funding, but we never had our own (strategy)."
Aravelo said people living with HIV can expect to live a very normal lifestyle and lifespan, but relying on drug treatments raises another concern–apathy about contracting the disease.
"Successful drug treatments can contribute to (people) not caring about contraction of HIV ," Aravelo said. "HIV can be prevented very easily (with safe sex), so we are trying to fight against the apathy."
SJCC student Guillermo Estrada, 25, was walking by and decided to pick up some of the HIV information brochures.
"People should wear protection if they're going to have sex because it's not worth catching a disease," Estrada said.
Nurse Janet Reid said the Health Center offers testing daily.
"HIV is still prevalent in the community and testing is necessary," Reid said.
Aravelo agreed with Reid that testing is necessary to know the scope of the disease.
"If we're not getting tested, then we don't know how badly it is affecting the community," Aravelo said. "We're really pushing the community to get tested."
AACI Program Specialist Ethan Giang, who said that AACI is at the Health Center on the first and third Monday of each month, also advocated condom use and HIV testing.
"Every nine and a half minutes someone is infected with HIV," Giang said. "That is about 55,000 Americans who contract the disease each year."