SJCC men's football takes a loss on home turf
The San Jose City Jaguars started strong during its home game against Monterey Peninsula College on Saturday, Nov. 12, but lost momentum during the second half. They were eventually defeated 14-23.
"The team has to work on finishing the game right. We have leads late in games, but then we let the other team score so you know we don't win on the scoreboard," said Head Coach Jim Winkler, who has been coaching at the junior college level for 20 years.
Assistant Coach Tim Duran expressed he felt similar to Winkler and addressed some of the team's biggest issues.
"The team hasn't necessarily learned how to put teams away, if you look at all the games throughout the season you know we jumped out to some pretty big leads sometimes and instead of being able to keep the gas and the pressure on the other teams, we kind of let them climb back into some games and we shouldn't," stated Duran, who has been with the team since 2019. "So I think that's our biggest issue, at least offensively."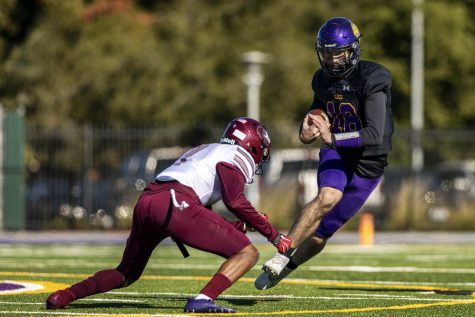 Quarterback Jared Julian said it means a lot to the team to have fans in the stands during the home games.
"I think it just gives it that extra bit of moral support to see fans," Julian said.
Family and friends of the Jaguar players expressed how they felt about the game.
"He's doing really well and it was just about her son finding a balance his first year here," stated attendee Dyema Jackson, mother of Jaguar player jersey number 22, Issac Hawkins.
"He stresses himself too much as a first year player," stated Hawkins' girlfriend Elizabeth Diaz.
"First off, I like the new field, it looks amazing, my first time seeing it," said Keion Curry, 26, who attended the game. Curry once played his freshman and sophomore year, who was giving his own thoughts on the teams in the last home game of the season.
"Second off, you know I don't think it's the way we wanted to see it go out the season's last home game, but the Jaguars played their hearts out. I'm proud of the guys," Curry said.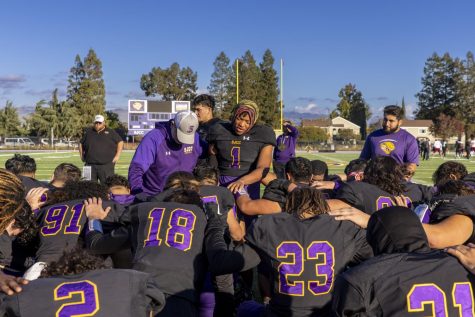 After the game, Assistant Head Coach Andy Gonzalez said the game felt like it was a "rollercoaster of a ride."
"We controlled our destiny and we made some minimal mistakes offensively that cost us field position in time and also scoring opportunities that we need to clean up moving forward," Gonzalez said.
Jaguar player Nicholas Morris, number 23, said he wants to focus on working harder to learn from their past mistakes and grow as a team.
"The defense played great," Curry said. "I feel like on the offense you have to hold our blocks a little more and give our quarterback a little more time to make a play because he's making good plays. But he needs just a little more time in the pocket to be able to find more of an open hole."
Donate to City College Times
Your donation will support the student journalists of San Jose City College. Your contribution will allow us to purchase equipment and cover our annual website hosting costs.