Kidd Kirby
Hang on for a minute...we're trying to find some more stories you might like.
[media-credit name="Kidd Kirby" align="alignnone" width="154″]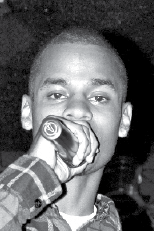 [/media-credit]This 23 year old former San Jose City College student is making quite a buzz all around the bay area. He had performed at VooDoo Lounge, Toons, The Venues at Santa Clara and many there in his career as a hip-hop/rap artist. The SJCC Times Arts and Entertainment Editor, Emily Land, set out to tell his story.
Q. W.hen did your music career start?
A. My music career started when I was in the 8th grade. It was a few of my buddies and I who would always go across the street from the and ryhme at the laudromat. I kept it going and continued to rap throughout high school. Once I graduated, I started taking it more seriously.
Q. What got you into it?
A. I come from a bloodline of folks who were into music so I see myself keeping the legacy going. My father was a big time DJ down south and he would DJ for radio stations, house parties and basically anything you can think of. If you were as old as he was and lived in Tennessee, all you had to do was ask for "Kool Keith" and everybody knew where to find him.
Q. What did/do you study?
A. When I attended San Jose City College I studied Business Entrepreneurship. I can still remember it like it was yesterday. Now-A-Days I am studying Information Technology and the dictionary! I can't tell you where because of my strong Jaguar pride.
Q. Where do you perform?
A. I've performed many places locally such as Toons Night Club, Coyote Bar, Zen Lounge, The Palms, Britannia Arms and other community centers around the San Jose area. I've also reached as far as Ruby Skye in San Francisco, The Zokku Lounge in Sacramento and The Spot. I have am upcoming show March 5th at Franchescas in Moutain View. Hope to see everybody there.
Q. Biggest influence?
A. My biggest influences are the ones who been around since the 90's and still to this day are getting their voices heard. Some good examples are Jay-z, P Diddy, Birdman, Lil Wayne.
Q.What are your goals with this career?
A. My goals with this career is to make a positive influence on our
community. Many artists today don't know that what we talk about can have a major effect on our society. My goal is to take that negativity and turn it into something that our children's children can look up to.
Q. Have you met anyone influential or important while pursuing this?
A. I've met many people while pursuing this dream and when I say many I mean a whole lot. It's just a shame that I can't say that any of those people have been that important to me. Just keepin' it 100.

Print