Lack of attendance at home games affects the performance of the players
SJCC students speak out on the lack of promotion for sports games
The San Jose City College Men's basketball team suffered a tough loss to Monterey Peninsula College on Jan. 31, losing 77-71, and snapping their three-game winning streak.
The SJCC Women's basketball team also endured a tough loss to Monterey Peninsula College on Jan. 31, losing 50-48. This loss snapped their six-game winning streak.
These losses at home would have stung less if the team had a home crowd to cheer them on.
On the day of the game, SJCC students were asked if they knew about the basketball game later that evening. They were also asked how the college could promote future games more effectively.
Carrissa Chavez, who plans on majoring in mass communications, expressed her frustration of not knowing when games are held.
"I didn't know there was a game today, but I wish I did," Chavez said. "I would love to go to games on campus, but it's so hard because I never know when they are."
SJCC student Kiara Turner, who plans on majoring in computer science, said she thinks SJCC should start sending out emails when games take place.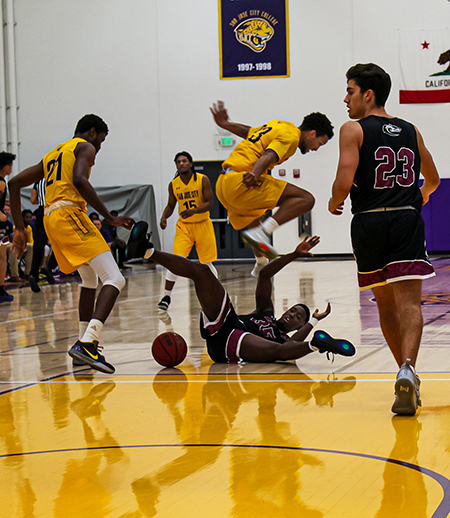 "I've been at San Jose City College for two full years, and I've never been to a sports game," Turner added. "Of course, I knew they were going on, but it seemed like nobody ever promoted them."
Head Coach Devin Aye explained how it would help to have a bigger crowd during home games.
"The audience is like a sixth man; we need them," Aye said. "I think the school should promote the games more with advertisements and banners. People never know much about the games."
Sports schedules are listed on the SJCC website underneath "Athletics."
Donate to City College Times
Your donation will support the student journalists of San Jose City College. Your contribution will allow us to purchase equipment and cover our annual website hosting costs.