Say their names
Transgender deaths remembered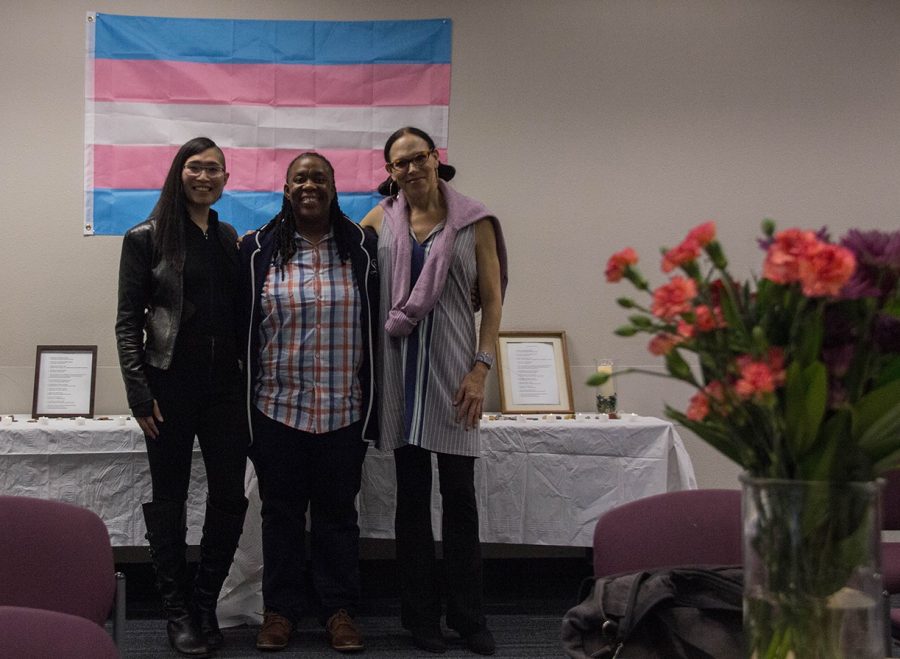 In 2018, there were 22 total deaths in the United States transgender community.
"I'm tired of this. This has to stop," said Dana Johnson, Commissioner of the County of San Mateo LGBTQ Commission, who has moderated Transgender Day of Remembrance ceremonies for more than 14 years.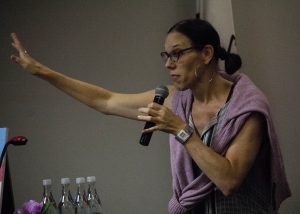 All those who filled the Auditorium on Nov. 19 were welcomed to the ceremony, presented by Safe Zone and the SJCC President's Arts and Lecture Series in the Technology Building Room T-415.
Johnson presented an engaging program and spoke about the difference between gender identity and gender sexual orientation, shared their coming out stories and gave their testimonial about the danger that comes with being an African-American transgender.
In the U.S. this year alone, 24 of the 25 victims whom we have lost to anti-transgender violence are African-American.
"There's a group that's being targeted," Johnson said after sharing their near-death experience in Oakland a few years ago.
The person who pulled a gun on them that evening in Oakland fatefully pulled on a jammed trigger while a passerby saw what was happening and spoke up to help out.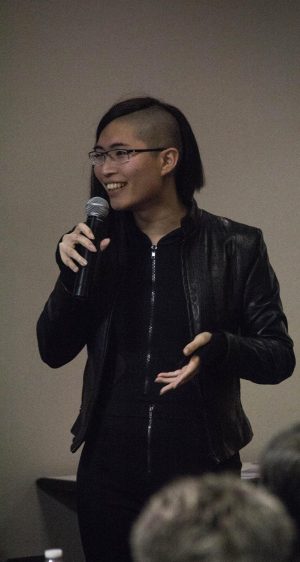 "We need our allies," Johnson said nodding, "we very much need our allies."
Kelly Kelly, 53-year-old trans female actor, writer and producer made it a point not to highlight all the activism she's done but rather credited her mentors, shared titles of useful resources and shared why she is focused on stepping back to examine and "unpack my own whiteness."
Kelly explained the harm that is done by taking the lead role in settings where her experiences are not the majority and how that only re-triggers trauma; resulting in emotional labor done by the undeserved because she cannot and simply will not ever experience their trauma because she is "white-passing."
Part of the ceremony includes holding space for the victims.
With the lights dimmed, the altar set up, complete with 25 candles gleaming as a photo slideshow with a brief eulogy for each individual was shown while the ceremonial reading of names "say their name" was done by guest speakers Johnson, Kelly and Lily Zheng.
"This event could be triggering but it genuinely opened my eyes to many issues that hopefully will gain more awareness," said attendee Kenya Ortiz, first-year SJCC student via email correspondence.
Diversity and inclusion consultant and author of "Ambiguity in the Workplace: Transgender and Gender-Diverse Discrimination," Zheng reminded the room that transphobia intersects with other systems of oppression, such as, "workplace discrimination and the broken American dream," and that everyone in the room "could do something about this in a way that the next person can not."
Zheng said, "It's more than just going to TDOR events and feeling pity for transgenders, it's about leaving more aware and prepared for the work that needs to be done."