Friendsgiving arrives at SJCC
Students feast at the Student Center
SJCC's first "Friendsgiving," was held in the Student Center, Nov. 21 from 3 to 5 p.m.
The event was free, sponsored by the Associated Student Government.
A variety of food and drinks were available for people to choose from.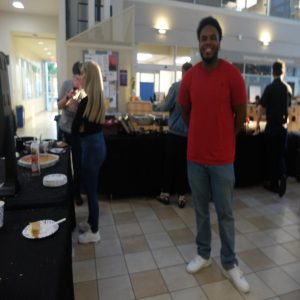 Dyllan Joseph, 20, an administrative justice major, said that this event was designed "to gather people that are on the campus everybody gets to know each other."
Joseph said what makes this event so special is "to see different people on a different basis for people that get to know each other."
Food that was being served included bread, mashed potatoes, and pie. Drinks, such as lemonade, could be found at another table close to the main food table. Students were also able to go back for seconds, provided there were leftovers.
Future events like Friendsgiving can be found using Eventbrite and the Associated Student Government website at sjccasg.org/events.