Climate change play swoops in and lands
Offbeat shorts preach renewal and hope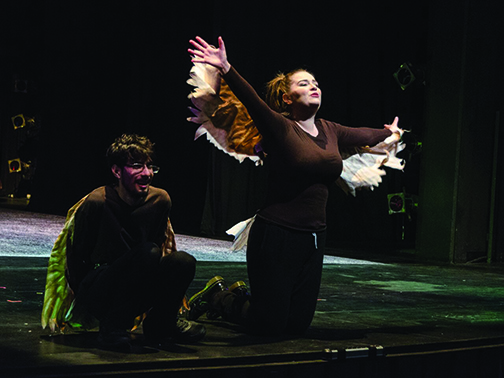 Tammy Do, Times Staff
December 5, 2017
For three days, eagles, frogs, astronauts and other odd creatures invaded campus in "Hot Mess: Short Plays About Climate Change," presented by the San Jose City College Theater Department.
"Very interesting and overall a very cute idea, " San Jose Middle College student Ramola Datta said. "I really like how the different little stories were structured. Sometimes I didn't really get what they were about, but some of them I found were very impactful."
Both the cast and technical crew were comprised of students enrolled in the theater performance and production classes. For many of them, this was their first production.
"I'm glad we had the opportunity to show everyone that we all have the power to make a difference," cast member Alejandro Soto said. "I had the time of my life portraying these characters on stage. I don't think I've ever been so attached to a cast like I did with these cast mates."
"Hot Mess" was made possible by global collaboration with Climate Change Theater Action, in which short plays were authored by 50 playwrights across the world on the prompt: "How can we turn the challenges of climate change into opportunities?"
Human biology and environmental science professor Sanhita Datta praised the production's timeliness and artistry:
"To say it is hard for an Environmental Science teacher to feel hopeful nowadays is by no means an exaggeration.  I felt hopeful today."