Larry Harris, it was truly an honor
Our tribute to campus gentleman and community advocate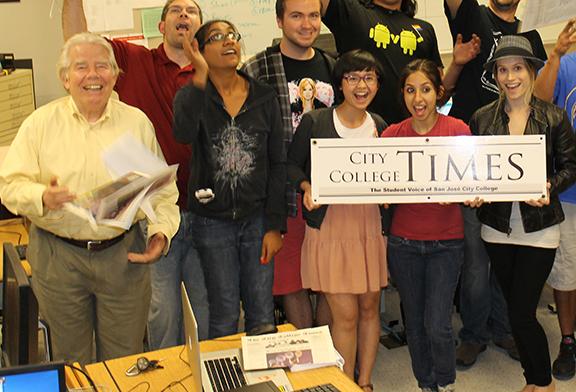 Melissa Maria Martinez, Times Staff
September 20, 2016
Larry Harris served the San Jose City College community as a student trustee and City College Times reporter. He was committed to keeping us informed on matters and decisions that impacted the school and its students. He took his responsibilities seriously, found joy and took pride in his work.
On May 24, Larry was one of three recognized by the board of trustees as a great inspiration for many through hard work and dedication to student success. On May 26, just two days later, he received his communication degree at San Jose City College's graduation ceremony and May 27, Larry Harris passed away with his "graduation robe in one hand, open college text book next to him," according to a family member's account.
Larry Harris' footprint is deeply imbedded on our campus and his memory in the hearts of the many who knew him.
"He cared deeply about our community and school. He had a wonderful laugh and always appreciated knowledge." – Communication professor, Leslyn McCallum.
"Larry was very passionate and kind man. He sure will be missed." Media Art and Design major ReVae Jensen
"He was a great man, always friendly. Very wise man that never stopped learning. Will forever be in mine and everyone's hearts." –City College student, Hayley Leonard
"He was such a sweetheart when I first came to SJCC in my English 1C class. Gone, but never ever forgotten. He will be deeply missed." -City College Alumni, Erika Harris