Vietnamese art student pushes past her struggles
Hang on for a minute...we're trying to find some more stories you might like.
Vietnamese SJCC art student Christi Pham pushes past her struggles with being a mother, working part-time and going to school to pursue her dreams of being an artist.
[media-credit id=1 align="alignright" width="400″]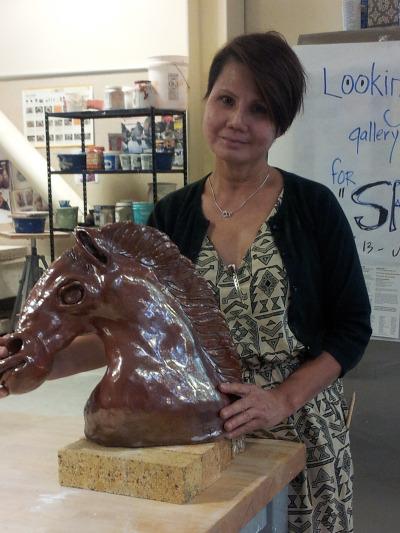 [/media-credit]Pham's major is art and she has been painting for 10 years. "My kids are grown so I'm going back to school for art," Pham said.
Judith Bell, an art instructor, wrote in an email that the work Pham created in the 3D design class is expressive and beautifully made.
"Christi is a very creative individual," Michelle Gregor, an art instructor, wrote in an email. "She is passionate about her ideas and her projects. I would describe her artwork as expressive."
Gregor wrote that Pham is taking two classes from her and that she is often the first one to arrive to the studio and last one to leave at night.
"Christi was my drawing student last year and I would say she is very talented and has a good imagination," Bell wrote. "She's a lot of fun too."
Pham said that she has designed clothes and done paintings while she was living in Vietnam.
'I do all kinds of paintings, abstract, real people and combinations of paintings," she said.
Pham said she wants to display her artwork at the SJCC art exhibit so she can get some money to sell her paintings and clothing but hasn't applied yet.

Print