SJCC hosts artist community reception
Hang on for a minute...we're trying to find some more stories you might like.
Student artists present their artworks for students at the art exhibition
The third annual fines art student exhibition included artists ranging from graphic designers, tattoo artists, to ceramic sculptors, painters and photographers that flooded to the Carmen Castellano Art Gallery from April 13-29.
The students who took Jason Adkins, an SJCC art instructor's Art 76 portfolio preparation class have learned how to set their art in a professional way.
"It's a brand new course," said Michelle Gregor, an SJCC art instructor. "The prerequisite is four years of studio art which is 12 units total."
"This is the third year that we offered in the spring," Adkins said. "Next year, it will be in the fall instead."
[media-credit id=1 align="alignright" width="400″]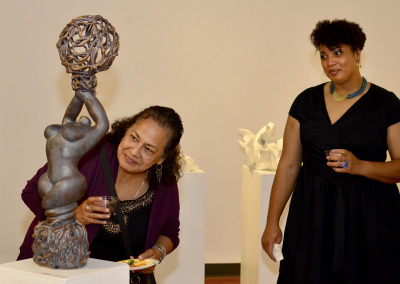 [/media-credit]Lucy Ghelf, a professional artist said that she had six ceramic pieces on display that were Bas Relief, and two white sculptures.
"I have been painting for several years using acrylic and oil," Ghelf said. "I concentrated on ceramics on the last four months."
Another artist named Andrea Brown, a SJCC student had set up three pieces of her artwork in a professional way at the art exhibit.
"Its high fire ceramics and they chronicle my experience as I learned about my own culture and history as an American," Brown said.
Some students had a good experience working with other student artists that were at the art exhibit.
"The Eclectic Perspective Exhibit is a good opportunity and experience for every student to show their work to the community campus, "Andy Nguyen, a SJCC student wrote in an email.

Print