Lady Jags suffer heartbreaking loss
Brennon Dixson
February 19, 2015
Filed under Sports
Hang on for a minute...we're trying to find some more stories you might like.
[media-credit name="Andy Nguyen" align="aligncenter" width="300″]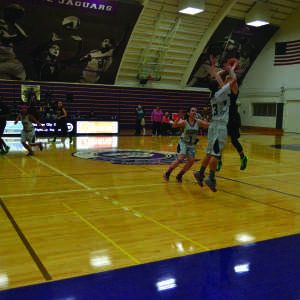 [/media-credit]


Hustle and defense are not enough to win Coaches vs Cancer game


The San Jose City College Lady Jags fell just short of a comeback victory as Ohlone College was able to close out the Jags 65-60 in the final seconds of the Coaches vs. Cancer tournament game that took place Wednesday, Feb. 11.
Kelanie De Soto led all scorers with 18 points in the game, but the second-half charge was led by Clara Ratu, who scored 15 in the game. Ratu's fellow freshman teammate Christine Golfo contributed 10 points to the effort.
The game was tied at 58 with a minute left in the game, but a costly turnover led to an easy layup for Ohlone to give them the lead. The Lady Jags fouled to extend the game, but De Los Reyes hit the free throws to close out the game and secure the win.
Ohlone began the game with back-to-back turnovers followed by a successful charge attempt from Sandoval-Pech, which allowed the Lady Jags to jump out to a 13-6 lead early in the game.
Ohlone's Mikaela Sablan caught fire shortly after and helped bring the Renegades back, thanks in part to her four 3-pointers and 14 points that all came in the opening half. A dagger 3-pointer from Gabrielle Duenas put her team up double digits, and Ohlone remained up until the half where they had a commanding 37-25 lead.
At the end of the game, SJCC coach Terri Oberg said, "We wanted to go at them and get the ball inside," coming out of the half. And that is exactly what they did as Ratu was a beast in the post coming out of the half, scoring all 15 of her points in the second half.
The game was tied after a beautiful sequence in which a quick post-up bucket from Ratu was followed by a De Soto steal and a big 3-pointer from Stephanie Sum, one of two 3-pointers she hit in the game.
Another steal and easy layup from De Soto put the Lady Jags up with 11 minutes remaining in the game as the crowd was hyped due to the Lady Jags' hustle on defense.
But the Renegades weren't ready to tap out as Candy De Los Reyes, who finished with 17 points, scored 13 in the half to keep her team in it along with the help of forward Jessica King, who added eight in the half.
The Lady Jags will seek to bounce back from the loss against Skyline in the SJCC Gymnasium on Wednesday, Feb. 18.

Print