Chancellor retires after five years in position
Brennon Dixson
February 19, 2015
Rita Cepeda is set to step down July 30
[media-credit name="Andy Nguyen" align="alignright" width="300″]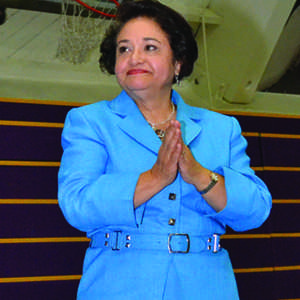 [/media-credit]Rita Cepeda, chancellor of five years for the San José-Evergreen Community College District, has formally submitted her retirement request to the Board of Trustees and is expected to make an announcement soon.
"All signs point to retirement as the next stage in my life," wrote Cepeda in an email announcing her retirement.
Cepeda said she was ready to retire when she was able to answer yes to two questions she had for herself. The first of which being had she accomplished what she wanted to when she first began. Cepeda believes her goals have been met and the district has come a long way since 2010.
While her first question dealt with work, her next question was a question of was she ready to retire and accept the next phase of her life.
The SJCC community is hurt that another administrator has come and left the district so soon.
Leslie Rice, an ESL and English instructor who also serves on the Academic Senate at SJCC, said, "I would like to wish her well in her retirement and thank her for her service and her work."
She said it is helpful when the administration has stability.
"I was hoping there wouldn't be major changes this year at the administration level," Rice said as she stressed that she understood how hard the job of chancellor is.
"There needs to be broad search for a replacement," Rice said, "one that includes all of California and the nation to search for the best person to serve us."