SJCC track team shines at trials
Patrick Loera
April 30, 2013
Filed under Sports
Hang on for a minute...we're trying to find some more stories you might like.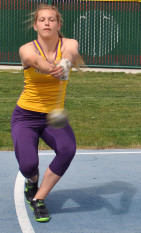 Kevin Flores / TIMES STAFF
The Jaguars show positive results as the track and field team participated in the first day of Coast Conference-South championship trials that began on Tuesday, April 23 at Chabot College.
Mike Amadi and Lindsay McKee were named conference champions in the hammer throw.
Dante Spears logged a personal record in the long jump after leaping 21 feet 6.5 inches.
Jeremy Thompson, Cm April and Mike Amadi have hit the state championship auto marks which gets them into the state championship given they participate in the NorCal regional championships in May.
The Jaguars will take part in the second day of the conference championships on Friday, April 26 at Chabot College.

Print